---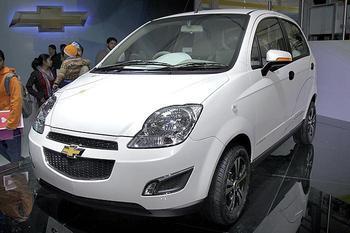 Forget the Parade of the Wooden Soldiers. At the Los Angeles Car Show this week, it's the Parade of the Electric Cars that's hoping to jolt consumers into a buying mood.
Among the entrants is GM's Chevrolet Spark. An all-electric version of the little car is being rolled out this week and will initially be sold only in California, Oregon, Canada and South Korea, perhaps rolliing out to the rest of the country later.
GM says new technology makes it possible to charge the battery to 80 percent of capacity in just 20 minutes. It develops 130 horsepower and can go from 0 to 60 in 8 seconds, the company says.
Automakers are racing to introduce electric cars in California, where a new state law requires that a certain number of vehicles meet a strict no-tailpipe-emissions standard. No one is sure if consumers will buy the things, but the car makers don't have much choice.
Ford is touting five new hybrids in addition to its all-electric Focus, Nissan is cutting the price of its all-electric Leaf and extending its range and just about every other automaker has one or more new models that use electricity in some form.
The Spark -- manufactured in South Korea at what used to be a Daewoo plant -- also comes as a gas-powered model, and even if the all-electric version doesn't exactly throw off sparks in the showroom, GM is hoping it will create a little halo around the gas version.
Pricing for the electric Spark hasn't been finalized but GM says it will be cheaper than most of its rivals.
---