---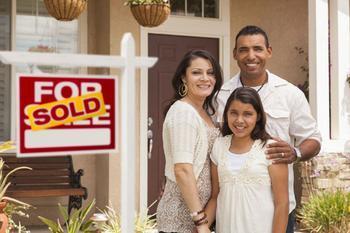 Though it's generally believed the housing market is in recovery mode, few analysts expected home sales to rise in October. But according to the National Association of Realtors (NAR) monthly report, they did.
Total existing home sales rose 2.1 percent over September and were up nearly 11 percent from October 2011. One reason for the unexpected gain, however, is September's sales figures were revised downward.
Still, it's pretty impressive considering large areas of the northeast were dealing with Hurricane Sandy.
Trending up
"Home sales continue to trend up and most October transactions were completed by the time the storm hit, but the growing demand with limited inventory is pressuring home prices in much of the country," said Lawrence Yun , NAR chief economist. "We expect an impact on Northeastern home sales in the coming months from a pause and delays in storm-impacted regions."
Price action was also encouraging. The national median existing-home price for all housing types was $178,600 in October -- which is 11.1 percent above a year ago. It marks eight consecutive monthly year-over-year increases, which last occurred from October 2005 to May 2006.
"Rising home prices have already resulted in a $760 billion growth in home equity during the past year," Yun said. "Given that each percentage point of price appreciation translates into an additional $190 billion in home equity, we could see close to a $1 trillion gain next year."
Foreclosures still a factor
Distressed properties continued to make up a sizable portion of the market. In October, foreclosures and short sales accounted for 24 percent of the action.
But there continued to be fewer homes for consumers to choose from, which is helping support prices. Total housing inventory at the end of October fell 1.4 percent -- to 2.14 million existing homes available for sale, representing a 5.4-month supply at the current sales pace, compared with 5.6 months in September.
It's the fewest number of houses for sale since February of 2006 when it was 5.2 months. Listed inventory is 21.9 percent below a year ago when there was a 7.6-month supply.
Investors, meanwhile, remain very active in the real estate market. All-cash sales were at 29 percent of transactions in October, versus 28 percent in September. They were also 29 percent in October 2011.
Investors, who account for most cash sales, purchased 20 percent of homes in October, up from 18 percent in September. They were 18 percent in October 2011.
---