---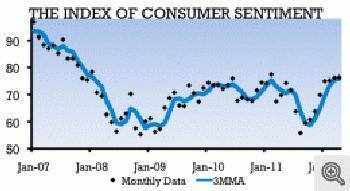 Consumers hit the malls on Black Friday and their computer keyboards on Cyber Monday with full force. The register receipts are still being tabulated but initial reports suggest the total for both days was impressive.
It could mean that consumers are showing growing confidence in the economy and The Conference Board's monthly Consumer Confidence Index for November suggests that's the case. The index posted a moderate increase over October but the fact that the trend line is continuing to rise may be the more important piece of news.
"The Consumer Confidence Index increased in November and is now at its highest level in more than four and a half years, said Lynn Franco, director of Economic Indicators at The Conference Board. "This month's moderate improvement was the result of an uptick in expectations, while consumers' assessment of present-day conditions continues to hold steady."
Increasingly upbeat
Over the past few months, consumers have grown increasingly more upbeat about the current and expected state of the job market, and Franco says this turnaround in sentiment is helping to boost overall consumer confidence.
In November, consumers saying business conditions are "good" declined to 14.4 percent from 16.5 percent, while those saying business conditions are "bad" deceased to 31.5 percent from 33.0 percent. Consumers' assessment of the labor market, however, improved.
Those claiming jobs are "plentiful" increased to 11.2 percent from 10.4 percent, while those claiming jobs are "hard to get" held steady at 38.8 percent.
Consumers also remained optimistic about the short-term outlook in November. Those expecting business conditions to improve over the next six months edged up to 22.2 percent from 21.5 percent, while those expecting business conditions to worsen edged down to 14.3 percent from 15.0 percent.
If consumers are worried about the so-called "fiscal cliff" at the end of the year, when taxes could rise for everyone, it has yet to show up in the numbers. All of that bodes well for retailers now in the thick of the holiday season.
---