---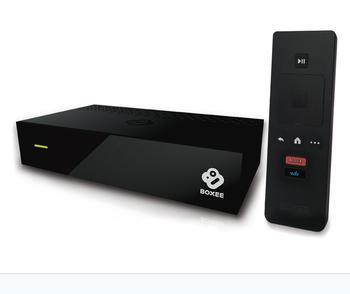 It's launch day for Boxee's second hardware effort. The $99 Boxee TV will be sold exclusively at Walmart and through the Boxee website starting today.
As we reported a few days ago, Boxee TV is sort of what everyone has been expecting from Apple TV and Google -- a way to find and watch TV shows from multiple sources without putting up with the confusing menus and remotes provided by cable systems.
Among its most compelling features is the "No Limits DVR" -- a cloud-based DVR system that lets you store an unlimited number of movies, TV shows and other videos.
As part of its introductory promotion, Boxee is offering a three-month trial period of the No Limits DVR for free, plus a discounted service rate of $9.99 (normally $15) for life, three months of free Netflix access and a $5.99 Vudu credit.
More apps have been adding, including Spotify, MLB, TED, Wall Street Journal, Accuweather, and Boxee's own Cloudee joining the previously announced Netflix, Vudu, YouTube, Pandora, and Vimeo on day one.
---