---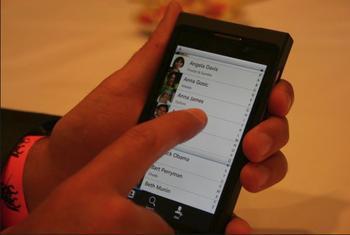 Research in Motion (RIM), maker of the Blackberry and given up for dead a long time ago as the Apple and Android operating systems came to dominate the smartphone world, is showing some signs of life.
And it's all due to the Blackberry 10, a device that isn't even on the market yet. Earlier this month RIM announced the new phone would debut worldwide on January 30, 2013.
Blackberry 10 isn't just a smartphone but a new platform, and that's what's grabbed attention. Technology analysts have been impressed with what they've seen and heard so far.
BlackBerry Flow and BlackBerry Hub are two of the innovations. The company says BlackBerry Flow is a new user experience that allows seamless navigation across open applications and the BlackBerry Hub. All messages, notifications, feeds, and calendar events come into the BlackBerry Hub and no matter what the user is doing with the device, with a simple gesture, they can look into the Hub at any time.
Keyboard's gone
As advertised, the physical keyboard has disappeared from the Blackberry 10. Instead there is an on-screen keyboard that learns how you write and adapts to how you type so you can write faster and more accurately.
"In building BlackBerry 10, we set out to create a truly unique mobile computing experience that constantly adapts to your needs," said Thorsten Heins, President and CEO of RIM. "Our team has been working tirelessly to bring our customers innovative features combined with a best in class browser, a rich application ecosystem, and cutting-edge multimedia capabilities."
All of this has not escaped the attention of Wall Street. RIM stock, which had sunk to the low single digits on the belief the company was destined to become digital roadkill, has surged in the last week. It's now trading between $11 and $12 with a number of analysts sharply raising their price targets.
Blackberry once was the dominant player in the smartphone world, but that was before the iPhone changed the landscape. As Android opened the way for many more device manufacturers, RIM has struggled to stay afloat. The company is hoping Blackberry 10 changes all of that.
---