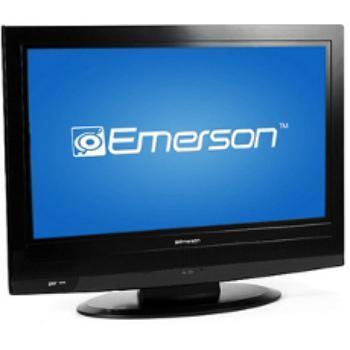 No matter how much we get attached to our computers and mobile devices, consumers will probably always have a need for televisions. Sure it's cool that you could watch an episode of "Modern Family" on your smartphone let's say, but that doesn't mean you want to do that all the time.
There's something about having the ability to recline in a number of positions and being able to view your favorite program on a lush flat-screen television.
I mean, of course a flat screen or any other television for that matter isn't necessary and many have survived without one, but with all the cool TVs that companies are making today it's hard to keep your mind and hands off of them.
The love affair with the television itself was rekindled when brands started rolling out the flat-screen models, which are now the standard when it comes to purchasing a TV.
The Emerson Syndrome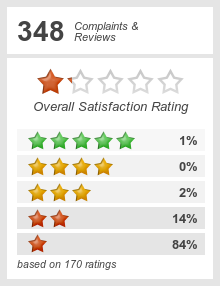 Emerson, a major player in electronics, is one of the most popular TV brands. There are plenty of flat screens to select when it comes to Emerson TVs, but one of the choices we'll focus on is the Emerson 32-inch Class 720, which varies in price, but goes for about $300 on Walmart's website and in other online stores.
The reason we're picking on the Emerson's 32-inch is because of the stir it has caused among our readers for blowing a fuse and completely breaking down while it was still new. In many cases the TV didn't even last until its warranty date.
"I bought an Emerson 32-inch TV in Walmart last Thanksgiving 2011," wrote Nelson of Manchester, N.H. in a ConsumerAffairs posting. "My wife and my daughter were watching TV last Tuesday (Nov. 13, 2012), when all of a sudden, the TV power turned off and since then it didn't return."
"We called Wamart but they told us to call Emerson. We contacted Emerson but they said we have to pay $70 for the labor. And we have to send it to them for the repair. It was disappointing that their TV lasts only for a few months, not even one year," Nelson wrote.
Sherri of Georgia also found the 32-inch flat screen disappointing, and just like Nelson she purchased one on Thanksgiving 2011, and experienced similar results.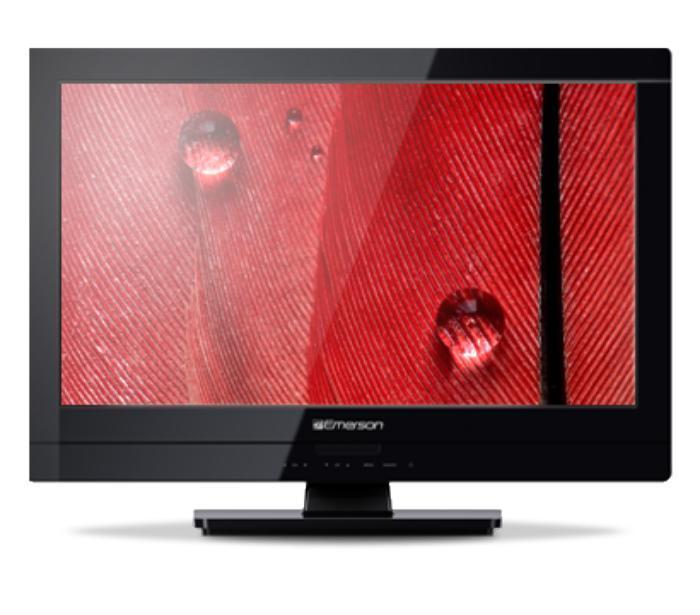 Also, after Sherri's TV stopped working before the one-year warranty was up, she had to pay the $70 labor charge like Nelson, which defeats the entire purpose of having a warranty, doesn't it?
Her reasoning was just like many of ours would probably be in similar circumstances--which is, why do consumers have to pay  for a product that stopped working so quickly, especially when a hefty amount was plunked down on it? It seems the more you pay for a product the more duped you feel when it fails.
"I bought a 32 inch Emerson LDC TV at Walmart on Black Friday 2011," wrote Sherri in her posting.
"The TV was bought for a guest room and not used very often. I went to turn it on last weekend (10/07/12/) and it will not turn on. It is plugged in to a surge protector as well as the cable box for that room, the cable box works fine. I moved the TV to an outlet in another room to try it—still no power and [it] will not come on."
"I called Funai Customer Service from the warranty information I got from Walmart on this model LCS20EM2F and they told me it would be $70 for them to diagnose repair and return," explained Sherri.
It's not just our readers who are unhapy. We conducted a computerized sentiment analysis on about 1,100 social media comments about Emerson TVs to find the most frequently-mentioned positive and negative attributes, as shown in this chart: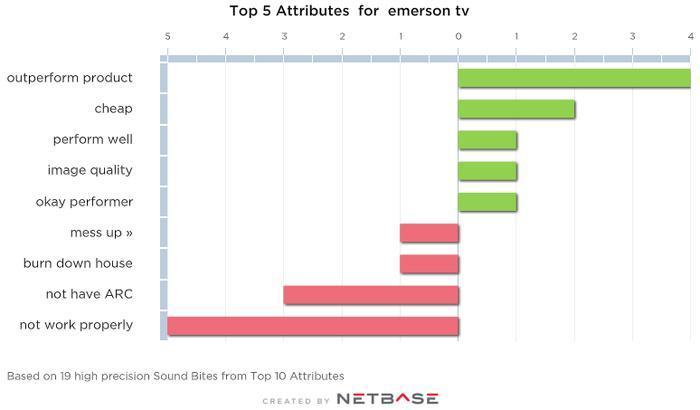 Black Friday Emersons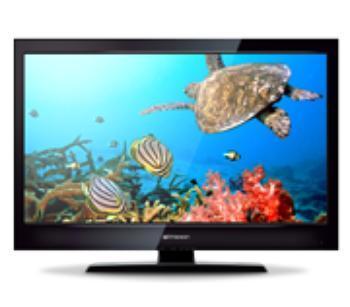 Apparently, many of the faulty Emersons  that were purchased by our readers were bought on Black Friday 2011, which is a clear sign that consumers should be on the look-out this year too if they're planning to go the Emerson TV route.
Overall Emerson TVs got only one out of five stars in the ConsumerAffairs customer satisfaction rating, which shows problems just aren't confined to the 32-inch model.
Angeia of Pennsylvania would probably agree, as she bought the 40-inch Emerson and it didn't even last a full TV season.
"40-inch flat screen quit in 48 days" she wrote, after having to hire a TV repair person to get the flat screen fixed.
Again, Emerson has seemed to renege on its warranty promise which forced Angeia to take the whole ordeal as a lesson in consumer fairness.
"Yeah, it's a pain but it was the only recourse I have since Emerson refuses to honorably honor their warranty," wrote Angeia.
No response
We reached out to Emerson to see if we could get some answers about its TVs blowing a fuse after short use, and why customers were still being made to pay a labor charge for repairs if the TVwas under warranty.
We're still waiting for the company's response, but in the meantime consumers may want to raise their antennas of concern a bit higher when shopping for an Emerson this season, especially with so many other reputable brands on the market.