---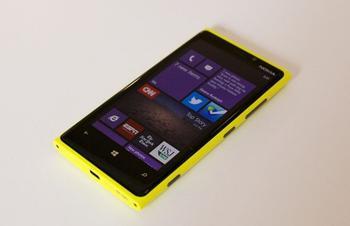 AT&T has announced three more new smartphones in its growing Windows Phone 8 portfolio.
Beginning Nov. 9, AT&T customers will be able to purchase the Nokia Lumia 920 for $99.99 and the Nokia Lumia 820 for $49.99. Before Thanksgiving, customers can pick-up the Windows Phone 8X by HTC with 16 GB of memory for $199.99.
AT&T also revealed an exclusive version of the Windows Phone 8X by HTC with 8 GB of memory in California Blue and Limelight (yellow) for $99.99. AT&T said it is the only carrier to offer this device in Limelight.
Starting today, Nov. 7, the Nokia Lumia 920 and Lumia 820 will be available for pre-order here and here. So far, AT&T says it has sold more Windows Phones than any other carrier.
"Our Windows Phone portfolio features the best designs for the fantastic experience of Windows Phone 8," said Jeff Bradley, senior vice president, Devices and Developer Services, AT&T Mobility. "Combine that with very exciting prices and our customers have lots of good reasons to choose Windows Phone this holiday season."
Nokia Lumia 920
Among the features found in the Nokia Lumia 920 is an advance in Nokia PureView imaging technology. The 8.7-megapixel camera features advanced floating lens technology, dubbed 'optical image stabilization,' which helps eliminate blur by compensating for hand movement while photos or videos are being shot. The camera in Nokia Lumia 920 can take in five times more light than typical smartphones to capture top quality photos and videos in low light.
Nokia says it has put its largest battery in the Lumia 920, which also includes built-in wireless charging capabilities. For a limited time -- and while supplies last -- AT&T said it will also include a free wireless charging plate with each purchase of a Lumia 920.
The 920 comes with a 4.5-inch PureMotion HD+ ClearBlack display, protected by Corning Gorilla Glass and is optimized for readability in the bright light conditions. It also has a new sensitive touchscreen that lets you type with fingernails or while wearing gloves.
It's available in red, white, black, yellow and cyan.
Nokia Lumia 820
The Nokia Lumia 820 is a mid-range smartphone that has the look and feel of its higher-end sister. It has a ClearBlack display and new sensitive touchscreen -- in a design that supports exchangeable shells. These exchangeable shells, which are sold separately, are available in range of colors and features, including wireless charging.
The Lumia 820 offers the same exclusive content as the Lumia 920, including Nokia Drive, a turn-by-turn voice navigation solution, Nokia Music, a free music streaming service and Nokia City Lens, an augmented reality application that uses the phone's camera viewfinder to provide information about points of interests in the surrounding area.
The Nokia Lumia 820 comes in black.
Windows Phone 8X by HTC
The Windows Phone 8X by HTC also has a unibody design along with a 4.3-inch 720p HD display (1280 x 720 pixels) for enhanced viewing of photos, video and Web pages.
The 2.1-megapixel, 88 degree, wide-angle front-facing camera can capture self-portraits and the faces of up to four friends all at once. The 8-megapixel rear-facing camera with an f/2.0 aperture allows you to capture photos and videos in low light.
AT&T says it's the first-ever Windows Phone 8 smartphone with built-in Beats Audio technology, giving it improved sound. The device has a unique audio amplifier that powers the 3.5mm audio jack and speaker to provide improved sound for music, video and even gaming.
The Windows Phone 8X by HTC will be available in two models -- California Blue with 16 GB of memory for $199.99 and an AT&T exclusive in California Blue or Limelight (yellow) with 8GB of memory for $99.99.
---