---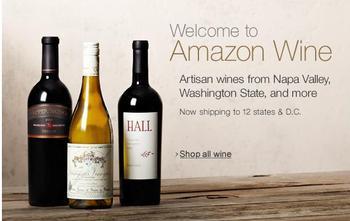 Amazon.com says it is opening an online wine shop, and a pretty big one at that. The online retailer says Amazon Wine will offer customers more than a thousand wines crafted by wineries around the country.
Besides wine the new store will offer shopping tools to help customers explore different kinds of wines and recommended food pairings and total case production.
"Whether it's helping customers find a favorite varietal, shop for holiday pairings or expand their cellar with a special hand-crafted bottle, we're excited to provide the right tools and information needed to guide them to the perfect wine," said Peter Faricy, Vice President, Amazon Marketplace. "We're thrilled for wineries around the country to share their great collections of wines with our customers through the Amazon Wine Store."
Where they ship
Customers can now ship up to six bottles of their favorite wine for $9.99, but only if you live in certain states. At launch, shipping is available to California, Connecticut, Florida, Idaho, Illinois, Iowa, Nebraska, Nevada, North Carolina, Oregon, Washington, Wyoming and the District of Columbia.
Amazon says the store will feature a wide selection of wines from both large and small wineries. Vineyards have flourished in the U.S. in recent years but many small operations have difficulty reaching customers outside their immediate geographic area. Amazon Wine could be a way for them to reach a wider audience.
"People love to explore wine, but it is rare to have detailed information and opinions located all in one place," said Tom Hedges of Hedges Family Estate, Red Mountain, Wash winery. "What Amazon has done with their new wine store is take the experience of hundreds of tasting rooms and put them online. We could not be more excited by the possibilities of growing our business and reaching new customers."
Provides a tasting room alternative
Eden Canyon Vineyards of Creston, Calif., does not have a tasting room so relies on word of mouth to reach new customers. Owner Elaine Blackaby says Amazon Wine fills a need.
"Now we are so excited to finally bring a tasting room experience online, where we can tell our story and share details about our wines that we've never been able to," Blackaby said. "Amazon Wine is truly a game changer for the small winery that is off the beaten path!"
---