---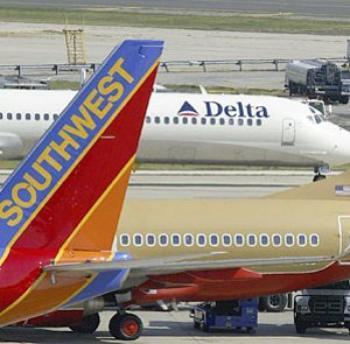 As huge swaths of the New York City area remain in shambles following Superstorm Sandy, a Nor'easter is taking aim at the battered region and airlines are rushing to cancel flights in and out of New York's three major airports. Some are also canceling Philadelphia flights.
United and American said they are suspending operations this afternoon, while other carriers urge passengers to reschedule and say they will waive fees for those who do so.
The latest storm is weaker than Sandy but will bring high winds, rain and snow and the chane of more flooding, particularly at LaGuardia and JFK, which are both low-lying and near the water.
At last word, the storm was farther offshore than expected as it moved up from Florida but New York is still expected to suffer high winds, ice, snow and rain and storm surges of three feet or more.
Moving image of April 2007 nor'easter.
(Credit: NOAA)
JetBlue, the biggest carrier at JFK, had just gotten its flights back on schedule after the massive disruption caused by Sandy.
Airlines are quick to cancel flights so as to avoid stranding equipment and crews.
And passengers should take note that airlines are not required to pay for hotels, food, cabs or anything else when flights are canceled because of weather.
What's a Nor'easter?
You don't have to be an old salt to be familiar with Nor'easters. A Nor'easter is a cyclonic storm that moves along the east coast of North America. It's called "nor'easter" because the winds over coastal areas blow from a northeasterly direction -- and they tend to occur in very crowded areas, where they cause maximum disruption.
The phrase, "crowded coastline" might conjure up images of tanned tourists on the warm, sunny beaches of Florida and California. But, the most crowded coastal corridor in the United States stretches between Washington, D.C., and Boston — and includes the densely urban cities of Baltimore, Philadelphia and New York.
In this region, 180 coastal counties support 77 percent of the area's total population, all crammed into urban areas with transportation systems that are filled to capacity even under ideal circumstances.
Nor'easters may occur any time of the year, but are most frequent and strongest between September and April. These storms usually develop between Georgia and New Jersey within 100 miles of the coastline and generally move north or northeastward.
Nor'easters typically become most intense near New England and the Canadian Maritime Provinces. In addition to heavy snow and rain, nor'easters can bring gale force winds greater than 58 miles per hour. These storms can produce rough seas, coastal flooding and beach erosion.
---