---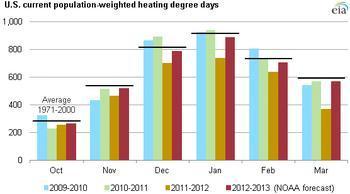 U.S. consumers stunned by near-record high cooling costs over a hot, dry summer aren't likely to get much relief during the coming winter months. The Energy Information Administration, part of the Department of Energy, expects household heating costs to be sharply higher this winter.
The last couple of winters have been fairly mild. That's expected to change this year with colder temperatures in many parts of the country. No matter how you heat your home, it's probably going to cost more.
Household natural gas heating demand in the October-through-March period is expected to be up nearly 14 percent, heating oil up 17 percent, electricity up 8 percent, and propane up 17 percent, according to EIA's Short-Term Energy and Winter Fuels Outlook for the 2012-13 U.S. heating season.
Reducing consumption
While demand is expected to be higher than last winter, consumption is forecast to be less than the five-year average for all the major heating fuels except heating oil, suggesting consumers will take steps to curtail usage in order to save money.
The reason for EIA's energy forecast can be found in the weather forecast. Meteorologists expect a much colder winter east of the Rocky Mountains compared with last winter, with heating degree days in the Northeast, Midwest, and South expected to be 20-to-27 percent greater this winter, according to National Oceanic and Atmospheric Administration's (NOAA) forecast.
The good news for consumers, however, is energy supplies remain ample. While geopolitical concerns in the Middle East could affect heating oil, they should have no bearing on natural gas or electricity supplies.
Plenty of energy
Natural gas is the most popular heating fuel, used by almost half of U.S. households. Natural gas inventories are expected to climb to 3.9 trillion cubic feet by November 1, a record for that time of year.
Natural gas prices have also been relatively low because of ample supplies. While they may rise on increased demand, the supply situation should keep any price hikes modest.
Electricity is the main heating source for almost 38 percent of households. In addition to record natural gas inventories to draw down to generate electricity, coal stocks held by the U.S. electric power sector are forecast to total 187 million metric tons by November 1, up nearly 19 percent from a year earlier.
Heating oil is burned by only six percent of U.S. households for winter fuel, with eight out of 10 of those heating oil users located in the Northeast. Lower heating oil stocks in the East Coast and Gulf Coast states, along with New York requiring heating oil with lower sulfur levels, are expected to contribute to a tighter heating oil market this winter.
Propane is used to warm about five percent of households, many located in rural areas. Propane inventories totaled almost 76 million barrels in early October, up 32 percent from the same period a year ago.
---