---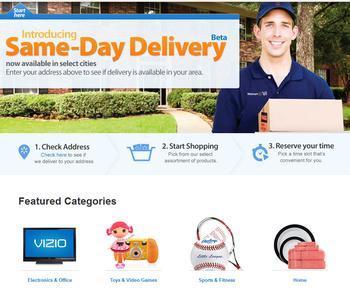 Same-day delivery is shaping up as the latest battleground in retailing. Amazon has been gearing up to offer same-day delivery in urban areas and now Walmart is doing the same.
Walmart began testing same-day delivery in Philadelphia and Northern Virginia last week and is in the process of adding Minneapolis, San Jose and San Francisco.
The company says the test program -- called Wal-Mart To Go -- will continue through the holidays. It costs $10 per order, regardless of the size of the order. Orders must be placed with walmart.com by 12 p.m. local time to qualify.
While not all items are included, there's a pretty long list of merchandise including electronics, toys, sports and fitness and home goods.
UPS will be handling the deliveries. The company said that shortly after noon, UPS will pick up the ordered items at the more than 3,000 Walmart "supercenters" and deliver them to customers that evening.
Groceries are not included.
Amazon, which has agreed to start collecting sales tax on online purchases in a number of major states, is said to be gearing up its own same-day delivery service.
---