---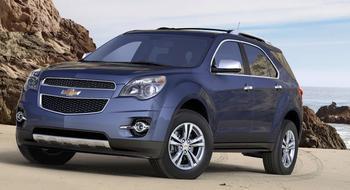 October is nearly gone but deals on SUVs are not. There are still some intriguing deals out there with zero percent financing.
TrueCar.com, a site that analyzes new car pricing information, has uncovered some deals on SUVs that include cash, finance and lease deals. The cash deals reflect the possible discount from the Manufacturer's Suggested Retail Price (MSRP) and include manufacturer-to-consumer rebates. With these available deals, TrueCar suggests that now is the best time for new-car shoppers to purchase a sport utility vehicle.
SUVs are not the gas hogs they were just a short time ago. Most are lighter, have more efficient engines but still provide the greater degree of utility that often comes in handy with the approach of winter weather. And now, it turns out, might be a good time to buy.
Consumer attitudes about SUVs haven't changed much over the last year, according to a ConsumerAffairs sentiment analysis of about 1.6 million comments on social media. Slightly less than half of consumers regard SUVs positively.
"If you are planning to shop for an SUV this winter, we recommend making your purchase either in the remaining days of October or early November," said Jesse Toprak, senior analyst at TrueCar.com. "Due to seasonality, demand for SUVs typically climbs to its highest levels in December, causing prices to increase from what you can buy them at today."
Some examples of discounts available on 2012 and 2013 SUVs include:
2012 Dodge Durango –0% financing for up to 60 months plus up to $1,000 cash allowance (Expires: 10/31/12)
2012 Chevrolet Equinox – 2.9% financing for 60 months (Expires: 10/31/12)
2013 Hyundai Tucson – 0.9% financing for 36 months (Expires: 10/31/12)
2013 Mazda CX-5 – 0.9% financing for 36 months (Expires: 10/31/12)
2012 Volkswagen Tiguan – 0% financing for 72 months (Expires: 10/31/12)
Keep in mind that not every consumer will qualify for zero percent financing. You generally have to possess a pretty healthy credit score. If you can learn your score before arriving at the dealership you'll have a better idea if zero percent financing is a real option for you or just away to get you to visit the dealership.
---