---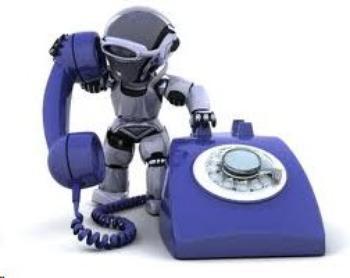 We're all familiar with robocalls -- those annoying computerized phone calls that come during dinner from telemarketers hustling everything from a new roof for your house to the latest flavor of political candidate.
In an effort to deal with the problem, the Federal Trade Commission is holding a Robocall Summit in Washington, DC, on October 18. FTC Chairman Jon Leibowitz will provide opening remarks, and will be joined at the event by experts in the fields of law enforcement, telemarketing and telecommunications.
During the last two years the FTC has stopped companies responsible for billions of robocalls. But the number of robocall complaints continues to rise as new technologies enable telemarketers to autodial thousands of phone calls every minute that display false or misleading caller ID information for an incredibly low cost. All telemarketing robocalls have been illegal since September 1, 2009, unless the recipient has opted in writing to receive them.
The summit
The Robocall Summit will explore innovations designed to trace robocalls, prevent wrongdoers from faking caller ID data, and stop unwanted calls. It will include a report on the current state of robocall technology and the industry, along with a discussion of the laws surrounding the use of robocalls, including how they are enforced, enforcement limitations, and what this means for consumers. The afternoon sessions will focus on developing solutions to the problem of illegal robocalls, including panels on caller ID spoofing and call authentication, data mining and anomaly detection, and call-blocking.
The Summit, which will be Webcast, will close with a special announcement by Bureau of Consumer Protection Director David Vladeck.
You can attend
The workshop is free and open to the public. It will be held at the FTC's satellite conference center at 601 New Jersey Ave., NW, Washington, DC. Pre-registration is encouraged because seating is limited. To pre-register, send an email containing your name and organization to robocall_summit@ftc.gov.
Day-of registration for the conference will begin at 8:15 am on the 18th. Attendees should arrive at the FTC 30 minutes before the event, and bring a valid government issued photo ID. Security processing will include a metal detector and X-ray screening of all hand carried items.
FTC staff will live-tweet the Robocall Summit. The agency's Twitter handle is @FTC. If you watch the Webcast and want to submit questions to participants online, tweet questions with the hashtag #FTCrobo.
You may also submit questions via the FTC's Facebook page.
Agenda
FTC Robocall Summit
9:00 am
Welcome – Chairman Jon Leibowitz

FTC Chairman Jon Leibowitz

Morning Focus: Where We Are Today
9:15-10:05 am
The Network: What is the current state of telephonic technology?

Steven M. Bellovin, Chief Technology Officer, Federal Trade Commission
Henning Schulzrinne, Chief Technology Officer, Federal Communications Commission

10:10-11:00 am
The Industry: How have technological changes affected the telecommunications industry, including entities that want to make automated calls?

Moderator: Roberto Anguizola, Assistant Director, FTC Division of Marketing Practices
Kevin Rupy, Senior Director Law & Policy, US Telecom
David Diggs, Vice President, Wireless Internet Development, CTIA
Brad Herrmann, Founder & President, Call-Em-All

11:15-12:20 pm
The Law: What is the law surrounding robocalls? How is it enforced? What are the limitations and challenges? What does all of this mean for consumers?

Moderator: Lois Greisman, Associate Director, FTC Division of Marketing Practices
Greg Zoeller, Indiana Attorney General
Will Maxson, Program Manager for Do Not Call Enforcement, FTC
Eric Bash, Associate Chief, FCC Enforcement Bureau

Afternoon Focus: Developing Solutions
1:20-2:40 pm
Caller ID Spoofing and Call Authentication Technology

Moderator: Kati Daffan, Staff Attorney, FTC Division of Marketing Practices
Henning Schulzrinne, Chief Technology Officer, FCC
Adam Panagia, Director, AT&T Network Fraud Investigations
Patrick Cox, CEO, TrustID
Vijay A. Balasubramaniyan, CEO & Co-founder, Pindrop Security

2:45-3:15 pm
Data Mining and Anomaly Detection

David Belanger, Senior Research Fellow, Stevens Institute of Technology, AT&T Labs Chief Scientist (retired)

3:30-4:40 pm
Call-Blocking Technology

Moderator: Bikram Bandy, Staff Attorney, FTC Division of Marketing Practices
Andrew Whitt, Director of Network Operations & Corporate Technology, Verizon Communications
Jeff Stalnaker, President & Co-founder, PrivacyStar
Matt Stein, Senior Vice President, Network, Technology & Planning, Primus Telecommunications Canada Inc

4:45 pm
Announcement – BCP Director David Vladeck
---