---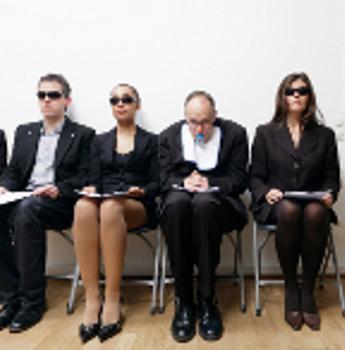 You have your MBA and the world is at your feet, with top companies begging you to come to work for them, right? Maybe in some alternative universe. But here on planet earth, it's a little tougher.
A a new poll conducted by Deloitte finds 95 percent of students surveyed from top graduate business schools in the country feel the need to distinguish themselves from their peers and are finding new and creative ways to do so in light of a challenging economy.
Students polled participated in the sixth annual National MBA Human Capital Case Competition, funded by Deloitte and General Electric (GE), on Oct. 20-21 at Vanderbilt University's Owen Graduate School of Management.
The new media in play
Results of the Deloitte poll show the majority of students have been leveraging social media and opportunities provided by employers, such as the Human Capital Case Competition. Ninety-two percent of students surveyed believe these types of professional practice opportunities are effective ways to distinguish themselves from their peers.
In addition to providing top MBA students with a way to stand out, employers are also able to differentiate themselves as innovative employers in the market and thus attract top talent.
Additional strategies identified in the survey as useful for gaining traction with respect to employment post-graduation include: attending networking events (100 percent) and industry/job-specific career fairs (69 percent); joining social media groups (88 percent) and professional business societies (51 percent); and participating in mock interviews (72 percent).
Dealing with pressure
Samuel Curtis Johnson Graduate School of Management at Cornell University captured top honors at the competition, which recognizes student teams' problem- solving and analytical skills, creativity and ability to stay focused under pressure. University of Southern California Marshall School of Business and The Yale School of Management collected second-place and third-place honors, respectively.
This year's competition engaged MBA students in solving real-world human capital business issues, allowing Deloitte and GE to glean insight into the participants' perceptions of some of today's most pressing workforce issues to better understand the goals, expectations and desires of this next generation of leaders.
"Today's top talent is increasingly savvy at developing new strategies to stand out in a competitive job market," said Garth Andrus, a principal with Deloitte Consulting LLP's human capital practice. "Many are turning to social media sites to help secure interviews and some are entering case competitions, like the National MBA Human Capital Case Competition, to get a leg up on their peers. We have learned as much from the students as they have from being involved in solving real world problems. Moreover, we are fortunate to have had a number of great competitors from past events join Deloitte."
The competitors
Following is a list of the 12 MBA programs (listed in alphabetical order) chosen to compete in teams of five for $14,000 in cash prizes and be named National MBA Human Capital Case Competition champions:
Emory Goizueta Business School
The Kellogg School of Management at Northwestern University
Mason School of Business at the College of William & Mary
Michigan Ross School of Business
Michigan State University Broad College of Business
Purdue University Krannert School of Management
The Ohio State University Fisher College of Business
Samuel Curtis Johnson Graduate School of Management at Cornell University
UCLA Anderson School of Management
University of Southern California Marshall School of Business
Vanderbilt University Owen Graduate School of Management
The Yale School of Management
---