---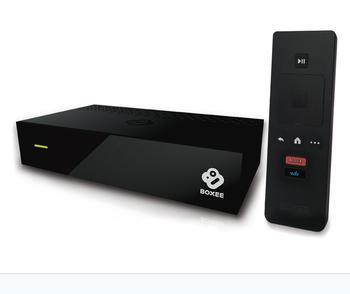 Everybody's heard of Apple and for years we've been hearing how Apple -- oh, and also Google -- were about to build a simple interface, or "box," that would let us grab over-the-air TV, unencrypted cable shows and Internet video (Netflix and so forth) simply and inexpensively.
Of course, no one has really delivered on that promise, except possibly for a little company nobody's ever heard of. It's called Boxee and it makes something called -- what else? -- Boxee TV.
What this little gadget does is pull in video from anywhere, including all the sources we mentioned above, and stream it to the various devices in your house.
It also acts as a DVR, letting you record programs and play them back later. But instead of being a "real" DVR -- a rather hulking device with a couple of hard drives inside -- the Boxee is a cloud-based DVR, meaning it stores the shows you save on its own system and then streams them back to you when you want to watch them.
Boxee calls it the "No Limits DVR" and explains it this way: "Instead of storing your recording on a local hard-drive, Boxee TV uploads your recordings to the cloud. It means there are no limits to how much you can record and no limits to where you watch - on your laptop, tablet and, of course, your TV."
Easily controlled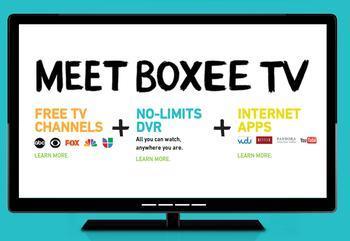 All of this can be controlled from your laptop or from the remote that comes with the Boxee. Besides a couple of simple controls (play, pause, etc.), it has a full QWERTY keyboard so you can select programs without going through the maddening point-and-guess process of the ridiculous remotes now supplied by cable companies.
You don't have cable? You may not need it. If you get decent over-the-air TV, you can get digital high-def over-the-air broadcasts. You may need an antenna and, oh by the way, Boxee supplies an internal antenna as part of its basic package. You may not an external antenna, depending on where you live.
As for cable shows, many of them make their way fairly quickly to the Internet and Boxee will go and find them for you if you ask it to, again using your laptop or the keyboard remote.
What's the advantage of this over Apple TV? Well, for one thing, it's what we might call "open" -- it will fetch and play video from just about anywhere, not just from iTunes. Google may trump Boxee eventually but hasn't done so yet.
Boxee is rolling out first in New York City, Los Angeles, Chicago, Dallas, Houston, Atlanta, Philadelphia and D.C. with more markets to follow in 2013.
What's it cost?
Becoming a DVR subscriber will cost your $14.99 a month. Buying the Boxee Box is $99.
So, does this replace something you're already paying for? Maybe. You might be able to get rid of cable, assuming you get a strong local TV signal and can find most of the cable shows you want on Netflix, VUDU, etc. And, of course, if you're paying an extra charge for one or more DVRs from your cable company or from TiVo, you could give them the heave-ho. It could also save you the cost of additional room hook-ups.
However it turns out, Boxee looks intriguing and we'll be getting a unit for testing as quickly as possible.
---