---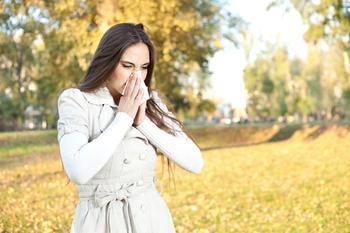 Autumn has arrived with pumpkins, apples and brightly colored leaves. But for millions of Americans, unfortunately, it also brings sneezing and runny noses.
And just where are fall allergies the worst? The Asthma and Allergy Foundation of America (AAFA) says Louisville, KY, tops the list of U.S. cities with the worst fall allergy conditions.
Rounding out the top five are Wichita, KS; Knoxville, TN; Jackson, MS; and McAllen, TX.
"The warm temperatures and longer seasons have created the perfect environment for seasonal allergies, causing pollen counts to soar this fall season," said James Sublett, MD, a Louisville allergist and chair of the American College of Allergy, Asthma and Immunology (ACAAI) Indoor Environment Committee. "The fall allergy season peaked in September and is expected to linger until November."
Environmental factors
Sublett says other environmental factors, such as Hurricane Isaac, caused some cities to be worse for allergies this year than others.
An estimated 40 million Americans suffer with seasonal allergies. Allergic rhinitis -- also called nasal allergies, seasonal allergies or hay fever -- is among the most common chronic diseases for children and adults, affecting more than 12 percent of the U.S. population. The primary fall allergy trigger -- ragweed pollen -- causes itchy runny nose, nasal congestion, repeated sneezing, watery eyes, inflamed sinuses and, in severe cases, difficulty breathing. It can be more problematic if you also have asthma.
"Everyone seems to be feeling allergies these days and fall is the most common allergy season after spring," said Dr. Beth Corn, a Board Certified Allergist in New York City and a member of ACAAI. "No matter if it's men, women or children, in the city, suburbs or the country, allergies don't discriminate."
Tips
Despite being worse in fall and spring, allergies can affect people all year round. Here are a few tips for reducing the impact of seasonal allergies:
Keep windows and doors closed to prevent pollen from blowing into the house.
Control dust mites on the bed. Look for a Certified asthma & allergy friendly mattress and wash sheets weekly in hot water to kill mites and their eggs.
Use a quality vacuum that has a high-efficiency filter weekly to keep indoor allergens to a minimum.
Change the air filter in your furnace regularly. Filters can trap lots of dust and allergens, so replace them every 30-90 days. Look for Certified asthma & allergy friendly filters.
Reduce the presence of mold by decreasing moisture around the house, keeping humidity below 50 percent and clearing the yard of damp firewood and leaves.
---