---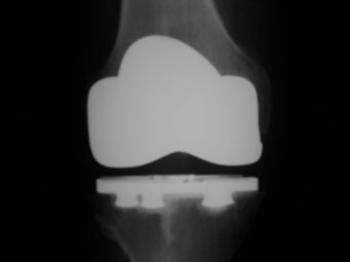 Knee replacement surgery, also known as total knee arthroplasty (TKA), is becoming one of the most common surgeries in the U.S., with about 600,000 performed each year.
Not surprisingly, it's mostly older people who are getting them. Researchers at the University of Iowa Carver College of Medicine found that, over a 20-year period, the biggest increase in the number occurred in the Medicare population.
With the first wave of the baby boom generation now entering senior-hood, that number is expected to swell, along with the cost. The average cost of the procedure is around $15,000.
"For policy makers, a main finding of the study was the dramatic growth we saw in the number of first time TKAs done in this population of Medicare patients," said Peter Cram, M.D., UI professor of internal medicine and lead study author. "The growth was driven by an aging population -- there simply are many more adults over age 65 now than there were 20 years ago -- and within this population, demand of this procedure has doubled."
Many reasons for increase
There can be many reasons for the increase, beyond the number of older adults now living in the U.S. Baby boomers tend to have been more active throughout adulthood and suffered more joint wear and tear.
Then there's the obesity epidemic. Carrying extra weight year after year can also put extra strain on knee joints.
But Cram says there is also another reason. There are more and more of these procedures because they have proved successful, helping many patients regain mobility and escape chronic pain associated with walking.
Effective procedure
"This is an incredibly effective surgery," he said. "Although it is a major surgery, it is extremely well tolerated and it allows people to remain active as they age. But the increase in numbers means that this procedure represents a major health care expense for Medicare program. Our findings highlight the challenge of controlling costs in an ageing population that wants the highest quality care possible."
In their study, the Iowa researchers looked at more than 3.2 million Medicare patients who underwent a total knee replacement surgery. They found that the number of first time knee replacements increased more than two and a half times from 93,230 in 1991 to 243,802 in 2010.
---