---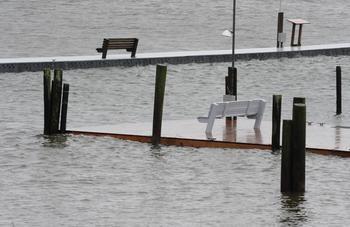 UPDATED: 12 Noon Monday
Schools, government offices and mass transit closed today from Washington to Boston and beyond as Hurricane Sandy, which killed at least five dozen people in the Caribbean, took aim at more than 60 million as it moved up the East Coast towards the country's most densely populated region.
As it moves north, the giant storm is expected to meet up with two other powerful winter storm systems, creating an even more threatening hybrid. At mid-morning Monday, it officially became the largest tropical storm ever recorded in the Atlantic.
Crisis map
Google's Crisis Map combines information from the National Hurricane Center, American Red Cross and other trusted sources. It offers details about the storm's current and forecasted locations, emergency shelter locations, live webcam feeds, public safety alerts, traffic conditions, and a wealth of other vital information.
The New York Times, meanwhile, is publishing a state-by-state guide to Sandy. Both the Times and the Wall Street Journal have turned off their paywalls during the storm. 
Besides hurricane-force winds, the massive storm system is expected to blanket the region with sheets of rain, high winds and heavy snow, threatening New York Harbor, Long Island Sound and other coastal areas with flash flooding.
Mandatory evacuation orders were issued in much of the New York-New Jersey metropolitan area, as well as along the exposed outer coastlines of Maryland, Virginia and Delaware.  Beaches began to disappear and in Ocean City, Maryland, a large pier collapsed.
Officials warned that some barrier islands, many lined with expensive beach homes, could be wiped out by a massive storm surge.  
Power outages and communications interruptions are expected to last for days and possibly weeks, as the storm-soaked ground and high winds combine to fell trees throughout the region.
Phone companies are trying to prepare -- topping off fuel for backup generators and lining up disaster recovery trailers to move into flooded areas after the storm passes. Verizon says its network is operating normally so far (as of about 2 p.m).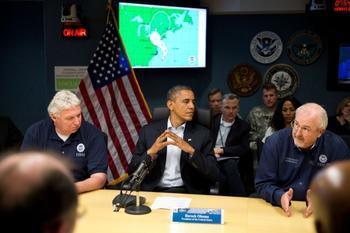 Local and state governments scrambled to prepare for the brewing disaster. In Fairfax County, Va., officials issued these preparedness tips:
1.)    Supplies: Get your supplies – water, medicines, canned food, cash, pet food and more. We strongly recommend that you be prepared with at least three days of supplies.
2.)    Gas: Fill your car's gas tank. Gas stations will be in short supply in a power outage.
3.)    Generators: If you have a generator or plan to buy one, please be familiar with safety tips.
4.)    Food Safety:  Power outages and flooding may happen as a result of a tropical storm or hurricane, so have a plan for keeping food safe. Have a cooler on hand to keep food cold, and group food together in the freezer so it stays cold longer.
5.)    Outdoor Items: Plan to secure all outdoor furniture, decorations, garbage cans and anything else that is not tied down.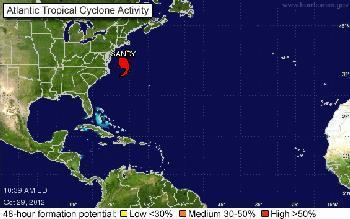 6.)    Trees: Remove dead limbs on trees that could fall on your property (home, car, land).
7.)    Leaves: Clear leaves from storm drains, gutters and other areas that, if clogged, could cause flooding.
8.)   Weather Forecasts: Pay close attention to weather forecasts for the latest storm track. We will provide guidance as needed. Purchase or charge up your weather radio. If you have a weather radio that uses SAME codes, Fairfax County's SAME code is 051059.
9.)    Tech Ready: View our Digital Preparedness Kit, which is an important way to stay informed and connected before, during and after an emergency.
10.) Phone Numbers: Save important phone numbers to your phone or write them down, especially your power company. Always report a power outage.
Best battery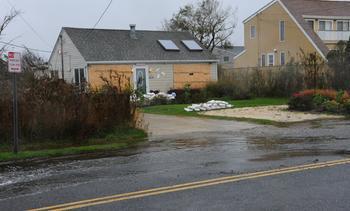 Consumer Reports magazine chimed in with some suggestions. If you're getting your flashlights ready to do battle, the magazine says the Energizer Ultimate lithium lasted the longest in the Consumer Reports flashlight tests, making it their recommendation for consumers who don't want to get caught in the dark.  
Also check out Consumer Reports generators ratings, and if generators in your area are all sold out CR has identified power inverters that can keep your refrigerator running when attached to your car battery. 
---