---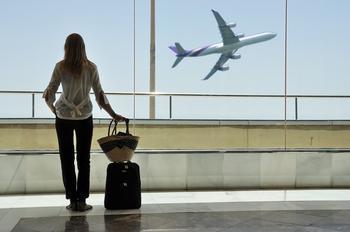 The holidays are coming. The smells of Thanksgiving turkey and dressing and the sounds of carols can make it "the most wonderful time of the year," unless you have to get on an airplane.
While industry airline performance quality has improved each year since 2007, the travel experience has become more stressful and uncertain, especially around the end-of-the-year holidays.
"During the past several years, the holiday travel period has been a struggle for airline passengers," said Dean Headley, Airline Quality Rating co-author and marketing professor at Wichita State University. "December typically has one of the worst industry performance scores of any month. The best bet for the consumer is to travel as early before the actual holiday or as late as possible afterward, and always leave room for schedule changes."
Downside of holiday travel
For starters, travelers can expect to pay more for a ticket, meaning it's a good idea to book your travel as soon as possible. With it already October, the window on savings is starting to close.
Then there are the lines. With more travelers around the holidays planes will be full and the whole boarding process usually takes longer.
And don't forget the weather. All it takes is one major winter storm at a major airport or two to throw airlines schedules everywhere into turmoil.
But despite all that, Headley says all is not doom and gloom when it comes to holiday travel. Looking back, he says, 2011 was a pretty good year for airline performance and data suggests that trend has continued into 2012.
Improvement
"Data shows performance scores are getting better," said Headley. "We are settling in to a reduced capacity system that challenges travelers to be more savvy. With strong demand for fewer seats, it also presents an opportunity for the airlines to perform better, but also charge more for a ticket."
And holiday travel doesn't have to be bad. Headley says travel during the holiday period last year was actually better than during the summer months.
"If you look at this improvement trend with month-over-month performance scores being better, even the more difficult winter months hold hope for a better travel experience," said Headley. "Air travel will cost more, but if you can find a seat, it may operate better."

In 2011, best-performing airlines in each of the AQR categories were Hawaiian, Jet Blue, Air Tran and Southwest. Hawaiian was best in on-time performance. Jet Blue was best in avoiding denied boardings. Air Tran was best in baggage handling. Southwest had the lowest rate of customer complaints.
The worst performing airlines in each of the AQR categories were Atlantic Southeast, Mesa, American Eagle and United. Atlantic Southeast had the worst on-time performance. Mesa had the worst rate of denied boardings. American Eagle had the highest rate of mishandled baggage. United had the highest rate of customer complaints.
---