---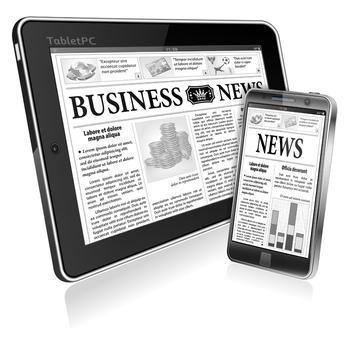 It wasn't so long ago that most Americans sat down after work to get caught up on world events by watching the evening newscast on ABC, CBS or NBC. Some still do but a lot more stay up-to-date with their smartphone or tablet.
A detailed survey by the Pew Research Center's Project for Excellence in Journalism (PEJ) in collaboration with The Economist Group, finds that half of all U.S. adults now have a mobile connection to the Web through either a smartphone or tablet. That's up sharply from just a year ago.
Now, instead of waiting for a scheduled broadcast on TV or cable, consumers are watching video clips on their mobile devices. The survey suggests the explosive growth of tablets is driving the trend.
Nearly a quarter of U.S. adults -- 22 percent -- now own a tablet device, double the number from a year earlier. Another three percent of adults regularly use a tablet owned by someone else in their home. And nearly a quarter of those who don't have a tablet -- 23 percent -- plan to get one in the next six months.
44 percent now have smartphone
Those who don't have a tablet are more likely now to carry a smartphone. The survey shows 44 percent of adults now carry phones that allow them to access the Internet, up from 35 percent in May 2011.
Despite all the games and entertainment apps available on these devices, 64 percent of tablet owners and 62 percent of smartphone owners say news is their preferred content, accessing news on their devices at least once a week. And they aren't just checking headlines. Seventy-three percent of adults who consume news on their tablet read in-depth articles at least sometimes, including 19 percent who do so daily. Fully 61 percent of smartphone news consumers at least sometimes read longer stories -- 11 percent regularly.
The findings suggest consumers are not cutting back on the amount of news they consume but are increasing it. Four out of ten mobile news consumers say they are getting more news now and nearly a third say they are adding new sources.
The survey also finds that consumers have yet to embrace certain features that mobile devices offer. While mobile technology allows people to get news anywhere and any time, most people get news on these devices when they are at home -- and roughly half of mobile news users get news on their device just once a day.
Prefer to use a browser
And when they access news, they tend to bypass apps and simply use the browser on their devices, just like they would on their PC at home. That's bad news for publishers, who hoped news apps would allow them to charge for access to news content. More mobile news users have print-only subscriptions than have digital ones. Just 24 percent say they are considering exchanging their print subscription for a digital one.
Pew concludes the mobile revolution has done nothing to lessen consumer's interest in news content, but in fact has increased it. It's just changed the way consumers prefer it to be delivered.
---