---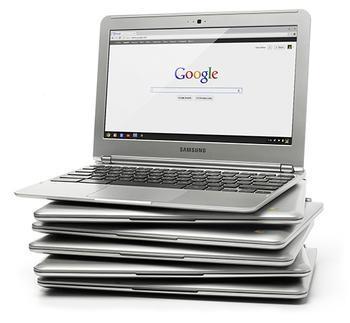 Google released a couple of things today. Neither one went over very well. In one instance, it revealed that its quarterly profit plunged 20%, causing its stock price to mimic Felix Baumgartner's free fall from space last weekend and sparking incidents of  hyperventilation throughout the financial services world. 
Less dramatic -- in fact, almost unnoticed -- was its introduction of what Google, with the modesty for which it is becoming known, termed "the best computer that's ever been designed" for a price of $249.
The little laptop in question is similar to all the other ultrabooks out there -- the MacBook Air, Asus Zenbook, et. al. It has an 11.6-inch screen and comes in a spiffy-looking little shiny metal case.
It's being called the Samsung Chromebook and is a browser-based notebook that runs on the Chrome OS, which is basically Linux, except no one wants to call it that (too proud, apparently).
Here are some key specs:
Less than 0.8 inches / 2.5 pounds

6.5 hours of battery (Varies based on usage)

Boots up in less than 10 seconds

100 GB of Google Drive free for 2 years
Room under the hood
So what's missing, you ask? Well, folks, there's no hard drive to speak of. There's just a little solid-state drive that holds the minimal operating system, which is why you need Google Drive or something similar. The browser is the operating system and all the applications and data files are stored in the cloud, either Google's or someone else's. 
It's kind of like an electric car. The car is great if you can find a place to plug it in. The Chromebook is fine as long as you have Wi-Fi wherever you go. Otherwise it's just another pretty case.
This is not as daunting as it sounds, though. Assuming you have a smartphone, you undoubtedly have an option that allows you to turn your phone into a Wi-Fi hotspot. Problem solved, but keep your credit card handy. You could also try the much cheaper FreedomPop, which we wrote about a week or two ago. It is currently undergoing testing in Truman Lewis' Burbank habitat and getting glowing reports. 
There is one other thing missing -- an Intel or AMD processor. This Chromebook uses an ARM Cortex-A15 processor built by Samsung, something you'd normally find in a smartphone or tablet.
So instead of thinking of the Samsung Chromebook as a scaled-down computer, maybe you'd prefer to look at it as a beefed-up smartphone? Take your choice, it doesn't really make much difference.
Google is hedging its bets slightly. It's not promoting this as the be-all and end-all computer. You probably would not use it to design spaceships or map DNA. But for email, wasting time on Facebook or doing simple word-processing on the go, it should be fine.
Light weight, fast boot-up, long battery life. What's not to like?
---