---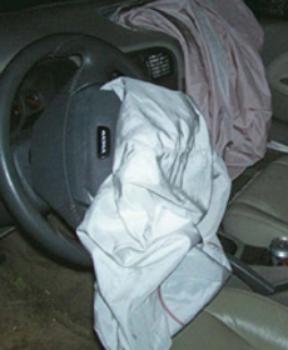 There's been an increase in the sale of counterfeit air bags for use as replacement parts in vehicles that have been involved in a crash and it's putting consumers at risk
These air bags look nearly identical to certified, original equipment parts -- including bearing the insignia and branding of major automakers -- but National Highway Traffic Safety Administration (NHTSA) testing showed consistent malfunctioning ranging from non-deployment of the air bag to the expulsion of metal shrapnel during deployment. However, the agency says it is not aware of any deaths or injuries connected to counterfeit air bags.
Lack of data
While the full scope and scale of the problem of counterfeit air bags is uncertain from currently available data, NHTSA has identified certain vehicle makes and models for which these air bags may be available and believes this issue affects less than 0.1 percent of the U.S. vehicle fleet. Only vehicles that have had an air bag replaced within the past three years by a repair shop that is not part of a new car dealership may be at risk.
Consumers whose vehicles have been in a crash and had their air bags replaced by a repair shop that is not part of a new car dealership within the past three years or who have purchased a replacement air bag online should contact the call center that has been established by their auto manufacturer to have their vehicle inspected at their own expense and their air bag replaced if necessary.
"Anytime equipment that is critical to protecting drivers and passengers fails to operate properly, it is a serious safety concern," said Transportation Secretary Ray LaHood. "We want consumers to be immediately aware of this problem and to review our safety information to see if their vehicle could be in need of inspection."
"We expect all motor vehicle equipment to meet federal safety standards -- and air bags in particular play a central role in keeping drivers and passengers safe in the event of a crash," said NHTSA Administrator David Strickland. "That's why it's critical that vehicle owners work with their automotive dealers and repair professionals to ensure they use the appropriate, original equipment parts in the event they need to replace their air bag."
Criminal element
NHTSA has been working with a number of government agencies -- including U.S. Immigration and Customs Enforcement, U.S. Customs and Border Protection and the U.S. Department of Justice -- to better understand the issue of counterfeit air bags and how to prevent them from being purchased and installed in vehicles.
"Organized criminals are selling dangerous counterfeit and substandard airbags to consumers and suppliers with little to no regard to hazardous health and safety consequences," said ICE Director John Morton. "We will continue to aggressively investigate criminal supply chains with our law enforcement and private industry partners and bring these criminals to justice."
NHTSA is currently gathering information from automakers about their systems for verifying the authenticity of replacement parts and is working with the industry to make the driving public aware of the potential safety risk posed by counterfeit air bags.
Consumers who should not be at risk:
Consumers who purchased their vehicle new and have not had their air bags replaced
Consumers who have full knowledge of the entire history of their used vehicle (including knowing whether the vehicle had been in a crash in the last three years and being certain that the air bag was replaced at a new car dealership)
Consumers who may be at risk:
Consumers who have had air bags replaced within the past three years at a repair shop that is not part of a new car dealership
Consumers who have purchased a used car that may have sustained an air bag deployment before their purchase
Consumers who own a car with a title branded salvage, rebuilt, or reconstructed
Consumers who have purchased replacement air bags from eBay or other non-certified sources—especially if they were purchased at unusually low prices (i.e. less than $400)
VEHICLES FOR WHICH COUNTERFEIT AIR BAGS MAY BE AVAILABLE:
As of today, NHTSA is aware of counterfeit air bags available for the following vehicle makes and models:
Make

Model Year(s)

Model(s)

Acura

2009-2011

TSX

Audi

2006-2009

A3, A4, A6, A8, Q5, Q7

BMW

2007-2011

X5, E70, E60, E61

2008-2010

5-series, 528i, 535i

2004-2007

5-Series, 525i, 530, 535, E60, E61

2007-2011

E90, E91

Not listed

E92, E93

2007-2011

X5, E70

2004-2007

525i, 530, 535

2011-2012

X3

Buick

2010-2011

Lacrosse

Chevrolet

2011-2012

Cruze

2006-2010

Aveo

2011-2012

Volt

2012

Camaro

Ford

2012

Focus

2005-2009

Mustang

Honda

2003-2012

Accord

2006-2011

Civic

2002-2011

CRV

2007-2011

Fit

2009-2011

Pilot

2009-2011

Insight

2009-2011

Crosstour

2011

Odyssey

Hyundai

2007-2011

Elantra

Not listed

Genesis

Not listed

Sonata

Infiniti

2007-2011

G35, EX35

Kia

2010-2011

Soul/Forte

2004-2009

Spectra

Land Rover

2012

Range Rover Evoque

Lexus

2006-2011

IS250, IS350, IS-F

2003-2008

GX470

2007-2009

RX350

Not listed

ES350

Mazda

2004

Mazda 3

2010-2012

Mazda 3

Mercedes

2009-2011

C, GLK

2010-2011

E350, E550

2007-2008

S550

2006-2009

ML

2009-2010

GL, ML

Mitsubishi

Not listed

Outlander

Nissan

1992-2002

Quest

2010-2011

Quest

2009-2011

Cube

2007-2011

Versa

2009-2010

Murano

Not listed

Altima

Subaru

2008-2009

Forester

2008-2009

Imprezza

2008-2009

Outback

2010-2011

Legacy

Suzuki

2007-2010

SX4

Toyota

2002-2006

Camry

2012

Camry

2009-2011

Corolla, Matrix

2007-2011

Yaris

2004-2011

Highlander

2004-2011

Sienna

2004-2011

Tacoma

2010-2012

Prius

2003-2006

Tundra

2007-2011

Tundra

2003-2006

Sequoia

2003-2010

Land Cruiser

2004-2007

Highlander

2008-2010

Highlander

2004-2009

4Runner

2007-2009

Solara

2005-2011

RAV4

Volkswagen

2006-2010

Jetta

Volvo

Not listed

XC60, XC70

Not listed

V70, S60, S80
---