---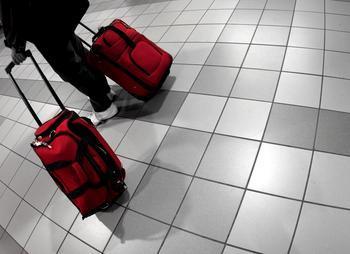 In addition to the evacuations in the Hurricane Sandy impact zone along the East Coast, air travel throughout the U.S. is being affected by weather-related flight delays and cancellations. Delays and cancellations at airports in the storm's path affect the entire system, because of connecting flights.
Nearly 8,000 flights have been cancelled, or are expected to be cancelled, before the storm runs its course by late this week. It's not just high winds forcing the cancellations. New York City, for example, has suspended mass transit services, which is how many passengers get to and from airports.
Airports like New York's Laguardia, which is located on the water, face the possibility of flooding from the storm surge.
Suspended flights
Nearly all airlines have suspended flights at East Coast airports. Southwest Airlines, for example, suspended operations at 13 East Coast airports on Sunday, including Philadelphia.
"The resumption of service at Philadelphia will be contingent upon the condition of the runways, taxiways, and airport services," Southwest said on its website. "Southwest is offering flexible travel accommodations for our customers who are planning to travel to/from Philadelphia on Monday, October 29 and Tuesday, October 30."
United Airlines says where severe weather and other uncontrollable events are affecting the airline's operations, it may issue an exception policy, waiving change fees, designed to accommodate customers with restricted tickets who wish to change their travel in advance of any potential disruption, as long as the travel was booked no later than October 26.
29 airports
It listed 29 airports where operations were impacted and these exemptions might be granted.
American Airlines announced a similar exemption policy and said it is continuing to adjust its schedules because of the storm.
"You may be experiencing some cancellations or delays as a result of some of the operational challenges we have been experiencing recently," the airline said. "We are extending our limited schedule reductions through the first half of November, and apologize for any inconvenience that this may cause. The planned flight reductions will not impact your holiday travel."
JetBlue announced it would also waive change and cancellation fees for travel booked to or from New York area airports, Washington, Baltimore, Boston and Richmond, Va. Travel must have been booked on or before October 26.
The Federal Aviation Administration operates a webpage that monitors delays at airports. You can find it here.
---