---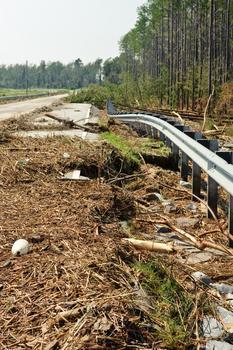 Money from Uncle Sam is on the way to help two of the states devastated by Hurricane Sandy.
The U.S Department of Transportation (DOT) is making $13 million in quick release emergency relief funds immediately available to New York and Rhode Island to help begin repairing the damage caused by the monster storm. Assessments are continuing throughout the Northeast to determine the full extent of the damage.
The announcement by Transportation Secretary Ray LaHood builds on the disaster assistance for these states approved by President Obama in the last several days, including the major disaster declaration approved for New York, which make federal assistance available to supplement state and local response and recovery efforts.
First requests
The $13 million represents 100 percent of the state-requested funds -- $10 million from New York and $3 million from Rhode Island. These two requests are just the first to arrive at DOT and represent the first installment of federal-aid highway funds to help repair roads, bridges and tunnels in these two states. DOT is expecting other states slammed by Hurricane Sandy to apply for additional emergency relief funding in the coming days.
"President Obama has directed us to immediately help restore vital transportation infrastructure following this unprecedented and devastating storm -- and that's exactly what we're doing," said LaHood. "These emergency relief funds are just a down payment on our commitment to all of the states impacted by Hurricane Sandy."
Infrastructure repair
Quick release emergency funds provided by the Federal Highway Administration (FHWA) will be used to pay for a variety of repairs to roads and bridges that are immediately necessary. Rhode Island will use the funding to repair damaged sea walls supporting roadways; New York will use it for general emergency repairs to federal aid highways.
"This funding is only the first step in the difficult process of helping the region recover," said FHWA Administrator Victor Mendez. "The federal government stands ready to assist in helping affected states repair roads and bridges so that residents can begin to resume daily activities."
To further speed access to critical repair funds, LaHood held a conference call Tuesday afternoon with officials from 14 states to outline how they can apply for quick release emergency relief funding. He also described other steps DOT has taken to assist states, including an Eastern Regional Emergency Declaration from the Federal Motor Carrier Safety Administration to lift hours-of-service requirements and other regulations to assist interstate motor carrier drivers and operators providing direct emergency relief.
FHWA's emergency relief program provides funds for the repair or reconstruction of federal-aid roads and bridges damaged by natural disasters or catastrophic events.
---