---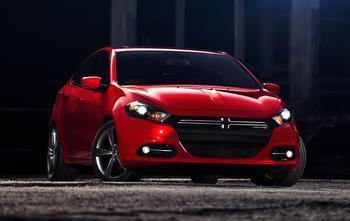 Chrysler is hoping the redesigned Dodge Dart -- considered by many to be an Alfa Romeo in disguise -- becomes a hot little ticket that peels out of showrooms as deftly as it zips around curves.
Giving the Dart a turbo boost is the news that it is among four new U.S. models to win the top crash rating from the Insurance Institute for Highway Safety (IIHS), an insurance industry group.
The Dart is the first model to dash into the U.S. market that's been jointly designed by Fiat and Chrysler. It is built on a platform shared with certain Alfa Romeo models and some auto enthusiasts are calling it the workingman's Alfa.
Other winners
Also winning the "Top Safety Pick" award this week were the Hyundai crossover Santa Fe, the Lexus ES 350 midsize luxury sedan and the Subaru XV Crosstrek hatchback.
IIHS tested 180 vehices for the 2012 model year, awarding the Top Safety Pick designation to 132 of them. Normally, ratings of 2013 models would not be released until December but the manufacturers of these four models asked that they be reviewed early.
---