---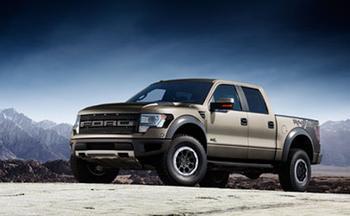 It might seem odd, considering gasoline prices are at a record seasonal high, that more consumers are looking at full-sized pick-up trucks these days. These vehicles, after all, tend to use more fuel than smaller cars and trucks.
But during the third quarter of the year, shopper interest in new full-size trucks on AutoTrader.com showed significant year-over-year growth, indicating that other economic factors might be at play. AutoTrader says interest in full-size trucks showed year-over-year increases in July, August and September -- a time when prices for regular and diesel fuel rose over 40 cents per gallon.
What could be behind this puzzling trend? The folks at AutoTrader believe it's a sign that the housing market -- especially the market for new homes -- is finally gaining traction. Construction workers, they say, hope to replace their aging trucks, which they've been driving since before the 2008 housing collapse.
Counter-intuitive
"Shoppers typically move away from larger vehicles in times of rising gas prices, particularly when those prices are above $3.75 per gallon, but that wasn't the case in the third quarter," said Rick Wainschel, vice president of automotive insights at AutoTrader.com. "Seeing a big spike in interest in July and continuing to see interest well above the levels of 2011 is a solid indication that the recovery of the housing market was strong enough to overcome shoppers concerns about the price of fuel."
The company says overall, interest in full-size trucks was up 14 percent in the third quarter, compared with the same period in 2011. In looking at the numbers month-by-month, the biggest year-over-year spike was in July, when interest was up 25 percent.
August and September also showed growth year-over-year, with interest up 13 percent in August and up eight percent in September.
Rising gas prices
While all of this was happening, prices at the pump were rising. In the third quarter, prices for regular gasoline went from $3.50 per gallon in July to $3.78 in August and $3.91 in September -- an increase of 41 cents per gallon. Prices for diesel fuel went from $3.72 per gallon in July to $3.98 in August and $4.12 in September, an increase of 40 cents per gallon.
AutoTrader may be onto something. According to data from the U.S. Census Bureau and the Department of Housing and Urban Development, new building permits were up 29.5 percent in July, up 24.5 percent in August and up 11.6 percent in September year-over-year.
Housing starts also hit a four-year high in September, up 15 percent to a seasonally adjusted annual rate of 872,000 units. With the average age of vehicles in the U.S. at 11 years, AutoTrader says it's likely that this growing interest in full-size trucks is being fueled by the need for workers in the industry to replace their aging workhorses.
---