---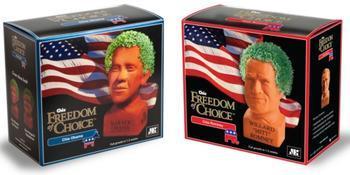 Polls have been a big part of the 2012 election season so far. President Obama and Mitt Romney are neck and neck in many national polls with the President ahead in some important battleground states.
But one poll you probably haven't heard much about is the Chia Poll. For the election season Joseph Enterprises has produced Chia pottery in the shape of Obama's and Romney's heads. Just like with the famous Chia Pet, the idea is to cover the pottery with seeds and grow "hair."
But which candidate has captured consumers' fancy? While Gallup and Rasmussen show the two candidates almost deadlocked, it's not even close in the Chia Poll. The numbers are compiled from Internet sales and in-store sales at Kmart.
Commanding lead
In the most recent sales data available from Joseph Enterprises, the reported sales figures since the start of the first airing of TV commercial featuring both Chia Romney and Chia Obama show Obama with a commanding 69.6 percent to Romney's 29.5 percent.
Additional sales for items in the company's "Freedom of Choice" collection during these same dates were for Chia Gingrich 0.3 percent and Chia Ron Paul 0.5 percent. The results reflect the sales figures reported by Kmart and online retailers Amazon.com, Drugstore.com and Americanchia.com according to Joe Pedott, President of Joseph Enterprises.
Chia debate?
With tonight's first presidential debate taking center stage, Pedott suggests consumers who have purchased both Chia Obama and Chia Romney could stage their own debates.
Admittedly, the Chia Poll is far from scientific and the choice of a Chia candidate doesn't necessarily translate into a vote. But in an election season that seems a bit more dreary than usual, it can't hurt when a product can inject a little levity into the electoral process.
---