---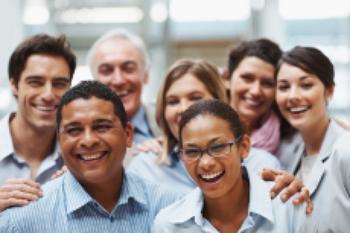 Tired of the sweatshop where you toil for 8 hours a day? Think there's GOT to be something better out there? You may be right.
In fact, you might want to take a look at Great Place to Work's list of the Best Small & Medium Workplaces list for 2012, published by FORTUNE magazine.
Now in its ninth year, the list -- compiled by the global research and consulting firm -- recognizes the top 50 small and medium sized companies in the United States with exceptional workplace cultures.
At the top
The # 1 spot on the Small list is claimed by first-time list maker, Ruby Receptionists. "We have long been creating a unique and rewarding workplace culture that deserves recognition," said Portland, Oregon-based Ruby Receptionists founder and CEO Jill Nelson. "We all come to work each day with a real passion and purpose for the work we do -- and -- more importantly, for the people we work with."
Returning to the top spot on the Medium list for the fourth straight year is ACUITY. "Being on the Great Place to Work list nine years in a row doesn't represent a competition to us," said Jessica Antonelli of ACUITY. "Rather, it is a reaffirmation of the way we try to innovate the relationship with our coworkers. The Great Place to Work process helps you evaluate how you are cultivating these long term relationships."
"The commitment to sustain great workplace cultures is flourishing in business of all sizes," said Susan Lucas Conwell, Global CEO of Great Place to Work. "We are pleased to recognize these companies and their success both as businesses and as workplaces. The diversity of industries, locations, and age of these companies suggests that there are no barriers to building great workplaces, except maybe the will to do so and the belief in the value of a strong workplace culture."
New faces, old faces
The 2012 Best Small & Medium Workplaces list features 18 first-time list makers, representing the largest influx of newcomers in several years. This year's list also features several companies that have been on the list for all 9 years the list has been produced, including -- as mentioned before -- ACUITY, EILEEN FISHER, Kahler Slater, Holder Construction Company and Professional Placement Resources.
While professional and financial service companies dominate the list, a handful of technology companies, staffing agencies, and even a mining company also grace the list. The 2012 list also features the first government agency: the City of Rancho Corodova.
Divided into two categories, Small (50-250 employees) and Medium (251-999 employees), the 2012 Best Small & Medium Workplaces list process, which uses Great Place to Work's unique methodology based on five dimensions: credibility, respect, fairness, pride, and camaraderie.
Best small workplaces
#1 Ruby Receptionists
#2 Intuitive Research and Technology Corporation
#3 Badger Mining Corporation
#4 Studer Group
#5 ENGEO Incorporated
#6 Talent Plus, Inc.
#7 Walker & Dunlop
#8 Root, Inc.
#9 McMurry
#10 Granite Properties, Inc.
#11 Radio Flyer, Inc.
#12 City of Rancho Cordova
#13 Xactly Corporation
#14 Akraya, Inc.
#15 Kahler Slater
#16 ZocDoc
#17 Assurance Agency, Ltd.
#18 Navigator Management Partners
#19 Dixon Schwabl
#20 Paramount Staffing
#21 AnswerLab
#22 Integrated Project Management Company, Inc.
#23 Professional Placement Resources, LLC
#24 Conductor, Inc.
#25 Insomniac Games
Best medium workplaces
#1 ACUITY
#2 Integrity Applications Incorporated
#3 Quantum Health
#4 Pinnacle Financial Partners
#5 EILEEN FISHER
#6 Ryan, LLC
#7 OtterBox
#8 Rally Software Development
#9 Cirrus Logic
#10 Ehrhardt Keefe Steiner & Hottman PC
#11 Return Path, Inc.
#12 Snagajob
#13 CustomInk, LLC
#14 Noblis
#15 Spectrum
#16 Spokane Teachers Credit Union
#17 dunnhumbyUSA
#18 Embrace Home Loans, Inc.
#19 DELTA Resources, Inc.
#20 Holder Construction Company
#21 Veterans United Home Loans
#22 4imprint, Inc.
#23 CALIBRE
#24 Mercedes-Benz Financial Services
#25 Higher One
---