---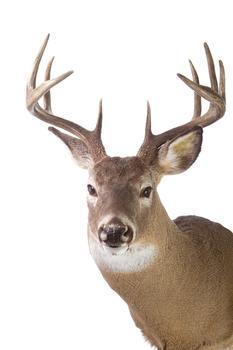 Deer are beautiful animals, except when they leap in front of your vehicle. That, unfortunately, is happening more and more.
State Farm Insurance reports the number of deer-related collisions in the U.S. has increased by 7.7 percent over the last year. This jump comes after a three-year period during which these collisions dropped 2.2 percent.
Over the last four years, the number of deer-related claims paid by State Farm has increased 7.9 percent while other similar auto claims have declined 8.5 percent.
"We have known for quite a while that the frequency of auto insurance claims has been declining," said Chris Mullen, Director, Technology Research. "But whatever is causing that trend is obviously not impacting deer-related crashes."
Increasing deer population
In all likelihood the increase stems from the continuing increase in the deer population. The State Farm research shows the states with the highest number of auto-deer collisions tend to be rural states with large deer populations.
For example, for the sixth straight year West Virgina topped the list of states where an individual driver is most likely to run into a deer. South Dakota was second and Iowa was third.
When motorists strike a deer on the highway, it's usually costly. The average property damage cost of these incidents during the final half of 2011 and the first half of 2012 was $3,305 -- up 4.4 percent from the year before.
And this is the time of year that motorists should be especially careful of deer crossing a highway. The State Farm statistics show November is the month when most of these accidents occur. October is second and December third.
Avoiding Deer-Vehicle Mishaps
For improved highway safety and reduced damage costs, avoiding these collisions is a priority. Some collisions are simply unavoidable but here are some tips for making these a little less likely:
Keep in mind that deer generally travel in herds -- if you see one, there is a strong possibility others are nearby.
Be aware of posted deer crossing signs. These are placed in active deer crossing areas.
Remember that deer are most active between 6 and 9 p.m.
Use high beam headlamps as much as possible at night to illuminate the areas from which deer will enter roadways.
If a deer collision seems inevitable, attempting to swerve out of the way could cause you to lose control of your vehicle or place you in the path of an oncoming vehicle.
You may see advertisements for car-mounted deer whistles. As air generated by the moving vehicle moves through the whistle, it creates a high-pitched sound that is supposed to frighten deer away.
If you mount one of these whistles on your vehicle, State Farm says you shouldn't count on it protecting you from a collision.
---