---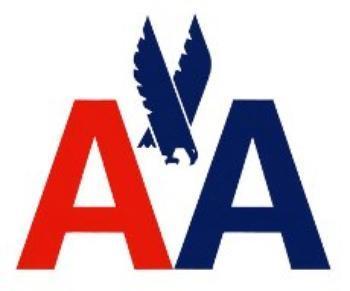 Bankruptcy. Loose seats. Pilots who don't show up and who write up maintenance requests when they do. What else could go wrong? Well, you could lose a bid to keep your few remaining nonunionized employees from holding a representation election.
That's what happened to American Airlines yesterday. The 5th U.S. Circuit Court of Appeals reversed a decision by a lower court judge who had halted a union election sought by about 10,000 nonunionized American employees.
The Communications Workers of America union had asked the National Mediation Board to investigate whether it could be certified to represent the airline's passenger-service employees, leading a federal agency to order a union representation election.
American then claimed that the Railway Labor Act bars the board from directing a union representation election unless the application is supported by at least 50 percent the employees and alleged that CWA's application to meet that standard.
The appeals court said the district court didn't have jurisdiction over the case.
CWA celebrates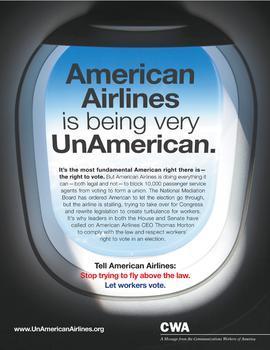 CWA applauded the decision, noting that "those employees finally will have the opportunity to exercise their legal right to vote on union representation." Most of American's 65,000 employees are unionized.
"The same American Airlines executives who took the airline into bankruptcy with $4 billion in the bank, which now has grown to $ 8 billion, also spent millions trying to stop workers from exercising their democratic rights," the union said in a prepared statement.
"This was a big step towards being able to negotiate instead of having them dictate terms to us," said Janet Elston, a veteran of 28 years as an American Airlines gate agent based at Dallas-Fort Worth International Airport in a statement on the CWA website. "It's been grueling, it's not easy, but it will be worth it once we have an election."
Ted Tezino, who has worked for 11 years at American Airlines' Southern Reservation Office, noted the bankruptcy has made their situation as employees clear;
"The company is not on our side, and it's time to stand up for ourselves," Tezino said.
The 10,000 passenger-service employees rejected union representation back in 1998 but things have changed since then. Buffeted by high fuel prices and intense competition from bulked-up Delta, United and US Airways, American is trying to emerge from bankruptcy while staving off a proposed merger with US Airways.
Delays, delays
The latest setback comes on the back of increasing flight delays and cancellations, the result of pilots filing an increasing number of maintenance issues.
American's flight through the bankruptcy process has been bumpy, to say the least. Last month it sent out layoff warnings to more than 11,000 employees, who are being told only that they could lose their jobs -- not that they will. An American spokesman said actual layoffs will be less than half that number.
Last month members of the Transport Workers Union of America (TWU) at two American Airlines bargaining units voted to ratify new contract agreements which reduce the concessions demanded by AMR, the airline's parent company, which has been in bankruptcy reorganization since November of 2011. One of the TWU units narrowly approved the package. The other accepted it by a 79 to 21 percent vote.
The Allied Pilots Association, meanwhile, has denied that it is engaging in any kind of job action when the number of last minute sick calls and maintenance reports sent American's flight schedule into a tailspin last month.
---