---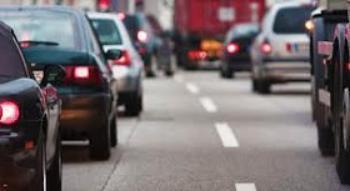 An alarming report from the National Highway Traffic Safety Administration says an estimated 16,290 persons died in traffic crashes from January to June of 2012. This is a 9 percent increase from just a year ago when there were an estimated 14,950 fatalities during the same period.
NHTSA's report shows that the startling increase represents the largest number of traffic fatalities during the first half of a given year since it first began collecting data in 1975. In the first quarter of the year, there was a 13.4 increase in traffic fatalities from January to March over the same time period in 2011. There was a 5.3 percent increase in the second quarter.
"This news is very disturbing," Mahlon G. "Lon" Anderson, Managing Director of Public and Government Affairs for AAA Mid-Atlantic said of NHTSA's report. "We've worked decades to reduce fatalities in America. We'll have to wait and see the complete numbers for 2012, but this is a serious shot across the bow – a warning that as we drive more, our roads may not be as safe as we thought they were."
| | | | |
| --- | --- | --- | --- |
| | 2011 Fatalities | 2012 Fatalities | Percentage Change |
| January-March | 6,720 | 7,620 | 13.4% |
| April-June | 8,230 | 8,670 | 5.3% |
Anderson predicts that the jump in crashes may be linked to an improving economy. "During the great recession which began in December 2007, there were fewer cars, trucks and less traffic on the roads because of various factors such as unemployment and reduced vacation driving.
"Another likely contributing factor to these fatalities," Anderson noted, "is the continued deterioration of highways and deferral of needed maintenance and improvements by federal and state governments. Operating and maintaining safe roads is extremely expensive and for years our local departments of transportation have had funding crisis and thus have not been able even to do necessary maintenance."
The report released by NHTSA's National Center for Statistics and Analysis shows that the number of vehicle miles traveled (VMT) increased by about 15.6 billion miles in the first six months of 2012 – a 1.1 percent increase from this same time period last year. Also, the traffic fatality rate (number of people killed in traffic crashes per 100 million VMT) increased from 1.04 during the first months of 2011 to 1.12 covering the same time period this year.
AAA Mid-Atlantic says NHTSA's early data underscores the need for Congress to quickly allocate funding for behavioral safety grant programs – recently established in the federal highway bill (MAP-21) to help states address issues such as driver distraction impaired driving and teen and senior safety driving.
---