---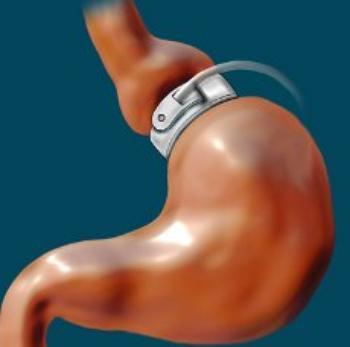 Two California brothers who have been leading promoters of the LAP-BAND surgical procedure for weight loss in obese adults are being targeted by several federal and state criminal investigations, the Los Angeles Times reports.
Michael and Julian Omidi, who for years ran the seemingly ubiquitous 1-800-GET-THIN ad campaign, are also facing numerous lawsuits filed by patients and the survivors of patients who had bad outcomes from the procedure.
The LAP-BAND is a ring that is placed on the upper part of the stomach forming a small pouch. It is supposed to cause patients to experience a full feeling and restrict their dietary intake.
The U.S. Food and Drug Administration (FDA) approved the LAP-BAND in 2001 for use in severely obese patients with a body mass index (BMI) of at least 40, and those with a body mass index (BMI) of at least 35 and who also have an existing severe condition related to their obesity, such as heart disease or diabetes, or those who are at least 100 pounds overweight. Last year, it expanded the eligibility to those with a BMI of 30 to 34. BMI is a general measure of body fat based on an individual's weight and height.
The investigation centers around "potential violations of federal law, including conspiracy, healthcare fraud, wire fraud, mail fraud, tax violations, identity theft [and] money laundering," Samanta Kelley, a special agent for the Food and Drug Administration's criminal division, said in an affidavit filed at the federal courthouse in Los Angeles, the Times reported.
Ads everywhere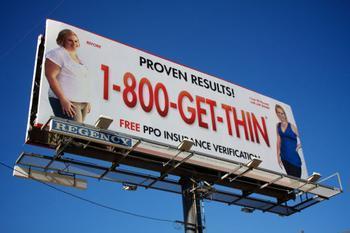 The 1-800-GET-THIN advertisements blanketed Southern California roadside billboards, television, radio and the Internet for years but disappeared earlier this year after the FDA warned the company that the ads were misleading because they failed to include adequate warnings about the surgery
One worker at a clinic affiliated with 1-800-GET-THIN was recently arrested after she tried to sell the medical records of two patients who died after Lap-Band surgeries to an attorney, Kelley said in an affidavit.
An attorney representing the Omidis, John Hueston, said his clients have done nothing wrong and he did not expect criminal charges to be filed against them.
5 deaths
Five patients died after undergoing the Lap-Band procedures at clinics linked to the 1-800-GET-THIN campaigns. In their lawsuits, relatives of the dead patients have charged that the clinics failed to warn patients about the risks of the surgery and alleged that doctors made numerous errors that led to the patients' deaths.
One of the lawsuits seeks damages in the death of a 50-year-old California woman who died in July 2010, five days after Lap Band surgery. Laura Faitro of Simi Valley died after undergoing surgery at Valley Surgical Center in West Hills, Calif.
Her husband, John, said Ms. Faitro became interested in the surgery after seeing television commercials for 1-800-GET-THIN. But a few days after the surgery, she was hospitalized with an infection and later died.
Faitro's suit charges that there were three lacerations on her liver and her abdominal cavity was filled with bloody fluid, KABC-TV reported.
Faitro claims surgeons discharged his wife despite her complaints of severe abdominal pain, and that the pain was so intense it forced her to seek help at the Simi Valley Hospital emergency room. She died on July 26 of "multi-organ failure and infarction due to shock, secondary to bleeding and sepsis in the abdominal cavity," according to the complaint.
Last resort
The LAP-BAND is intended to be used for weight loss in adults who have not lost weight using non-surgical weight loss methods.
Patients using the LAP-BAND must be willing to make major changes to their lifestyle and eating habits, the FDA notes.
"Obesity is a major public health concern in the United States," said William Maisel, M.D., M.P.H., deputy director for science at the FDA's Center for Devices and Radiological Health. "A healthy lifestyle and weight loss are keys to improvements in health and a person's overall quality of life."
Use of the LAP-BAND in patients with BMIs between 30 and 40 was examined in a U.S. study. Results showed that 80 percent of patients lost at least 30 percent of their excess weight and kept it off for one year. Some patients in the study lost no weight, while others lost more than 80 percent of their extra weight.
In the same study, more than 70 percent of patients experienced an adverse event related to LAP-BAND, most often vomiting and difficulty swallowing. The events ranged from mild to severe but most were mild and resolved quickly.
Seven out of 149 patients needed other procedures after implantation: four to remove the LAP-BAND, two for port revisions, and one to reposition the LAP-BAND.
More about weight loss
---