---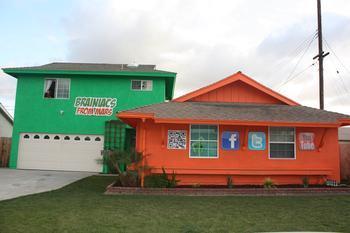 Some would say purchasing a home is a definite part of the American dream. But that dream can easily turn into a nightmare if you're suddenly unable to afford the mortgage payments.
Well, a company has recognized the large number of people in this predicament, and have come up with a unique way to solve a family's mortgage problems, and increase its client list.
Brainiacs From Mars, a marketing company specializing in off the wall ideas, offers to pay your mortgage if you allow them to use your house as a billboard. And what does that mean exactly?
Well, picture your house being painted a mango-colored orange or an electric green, with colossal company logos all over it from the roof to the base. That's the idea behind this new technique of advertising and Braniacs From Mars is the first company to put it into action.
"It really blew my mind," said Romeo Mendoza CEO of Braniacs in an interview with CNN Money. "I knew the economy was tough, but it's sad to see how many homeowners are really struggling."
Lots of applicants
The company has received an overload of applications from homeowners wanting their houses to be used for marketing purposes, since the peculiar offer was announced earlier this year.
Here's how the deal is structured: Homeowners submit an application to Braniacs From Mars, then the company decides which houses it will choose. If you're accepted, you'll have your mortgage paid for up to one full year, as long as the advertisements are visible for the entire duration of the deal.
The first to jump on the offer was the Hostetler family from Buena Park, Calif., and they've been nothing but pleased with the business exchange thus far.
"We thought it would be nice to have a company pay the mortgage so we could pay down our bills and the credit cards," said Scott Hostettler in a published interview.
Braniacs not only select houses that are perfectly located for advertising but chooses families based on what their circumstances may be. Once the advertising is completed the company restores the house back to its original look.
Not a charity
But make no mistake about it, Braniacs From Mars isn't a homeowner's assistance company, it's a marketing firm, and the main idea is to build up its client roster by providing an unprecedented way to market brands and raise awareness.
Shortly after Mendoza and his company made the advertising offer known nearly 40,000 homeowners applied, changing the deal from a strange sounding bartering system to something of a lottery. The bulk of the applications came from those states that have been on the front lines of the housing crash like Florida, California and Nevada.
Of course downsides of the exchange consist of having a weird-looking house and potentially annoying your neighbors.
Also, if you're the type who likes to keep a low profile, those days would be very much over. You would also have to deal with any home owner association guidelines about deviating from the planned neighborhood look and appeal.
"There are definitely zoning issues in some cities, and we realize that" said Mendoza. "But we have really hit a nerve, and we can't let that stop us. Once people start seeing how it works, once they get it, the moment they realize it is paying people's mortgages, they're always on our side because of this economy."
But the question remains: Is going through all of that attention getting and having a strange looking house better than getting your house foreclosed? According to the almost 40,000 homeowners that applied, it's definitely worth it, as desperate circumstances many times call for out-of-the-box solutions.
For those interested in throwing their house in the ring for mortgage payments they can go to the company's website and fill out the online application. But I hope you really like green or orange, and you don't mind possibly having a 20-foot Twitter logo on your house.
---