---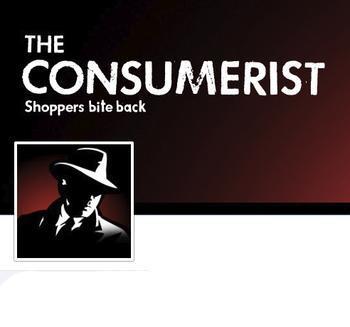 The Consumerist is one of those sites that people either love or hate. Owned by Consumers Union, the not-for-profit publisher of Consumer Reports, the site is a free-wheeling forum where consumers and columnists spin yarns that horrify other consumers and infuriate the companies who are cast as the villains.
But for the last few days, the Consumerist has been absent from the Web and is only now beginning to get itself back together. Consumerist is quite clear about one thing: it's still not quite sure what happened but in a posting this afternoon, Consumerist's executive editor, Meg Marco, said that on Sept. 20, the site began getting reports that some its pages had been altered and were redirecting traffic to spam websites.
"We took the site down as quickly as possible and began investigating," Marco said. While the investigation continues, Marco said a new site was being built at a different hosting provider and would be appearing around the country gradually.
At least for now, the new site will not include comments from readers, Marco cautioned.
"Consumerist feels really strongly about not sharing our user's personal information with outside organizations who may want to use it for commercial interests. ... While we build something that meets our needs (and yours) Consumerist will temporarily not feature commenting. We are sorry for the inconvenience, and hope to have commenting back soon," she said.
Marco said it's too soon to say whether Consumerist readers' user names and passwords were hacked, but noted that it's always good practice to use a different password on every site.
Marco also said it's not possible to say whether malware was downloaded onto Consumerist readers' sites and recommended that concerned users should check their anti-virus program and go to StopBadware.org for more information on safe browsing.
Readers complain
Consumerist readers have been quick to complain about the handling of the incident and say they were kept in the dark.
One reader posting on Consumerist's Facebook page said he had emailed the president of Consumers Union, Jim Guest, every day asking for information but had not received a reply.
Noting that Consumerist staffers have not posted or Tweeted, some readers see a conspiracy while others see Consumers Union setting a poor example by leaving its readers -- who must be considered consumers even though they do not pay to view the site -- in the dark about possible threats to their personal information.
"Consumerist.com is truly no better than any other company that they trash on a daily basis. This is an epic fail for the Consumerist and heads should roll over this fiasco," said Jeff Talbert in a Facebook posting earlier today.
Consumerist spokesmen told ConsumerAffairs late today there is no conspiracy of silence and that it has simply been an all-hands effort to identify the problem and pitch in to get at least a skeletal version of the site back online.
---