---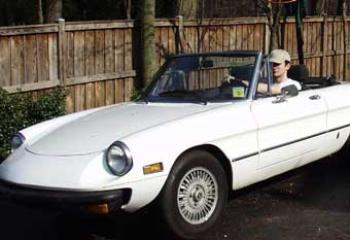 A band of fanatical loyalists for years have awaited the Second Coming and believe that it may be at hand. The target date has not been narrowed down but is expected to be sometime in 2014.
We're talking, of course, about the return of Alfa Romeo to American shores. The Italian marque began to fade in the 1980s and by 1995, only the tiniest flock of Alfa sports sedans and roadsters made their way across the pond.
That may all be about to change, however, as CEO Sergio Marchionne continues his attempts to meld Fiat SpA and Chrysler Group LLC into a global automaker that realizes the same economies of scale as Volkswagen, Toyota and General Motors.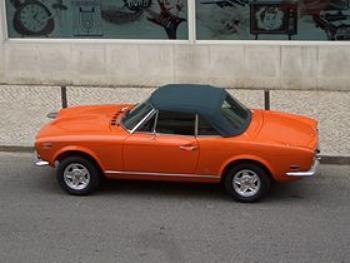 Italian cars were once noted for their wind-in-the-face, devil-may-care sportiness. Even humble Fiats, like the classic 124 roadster, delivered more jauntiness for the buck than you could find elsewhere. Alfa Romeo was a notch up the ladder, with Maserati, Ferrari and Lamborghini atop the pyramid.
Ah, but that was then. Today, the Italians, at least the lesser Fiats and Alfas, have lost much of their cachet to the BMWs, VWs, Mini Coopers and other interlopers.
Enter the Fiat 500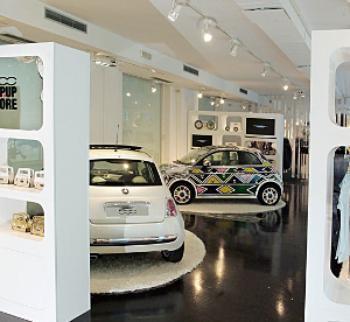 Fiat made a tentative return to the U.S. last year with the tiny Fiat 500, so far little more than a bit player. Marchionne is hoping that Alfa Romeo makes a grander entrance, riding on the contrails of Maserati and Ferrari rather than puttering along in the Fiat 500's wake. Alfas will be sold through the Chrysler dealer network rather than the newly-established Fiat salons, we're told.
A week with Little Paolo
So in preparation for all of this, and to renew old ties with Fiats, we recently rented a Fiat 500 for a week from our friends at Fox Rent A Car in Los Angeles.
We picked up a well-broken-in little number at LAX and headed out to put it through its paces. We had barely reached the bottom of the ramp to the northbound 405 when a bully in a Chevy Tahoe cut short our polite attempt to merge sequentially into traffic. Seconds later, a brute in a ridiculous Ford Expedition did likewise.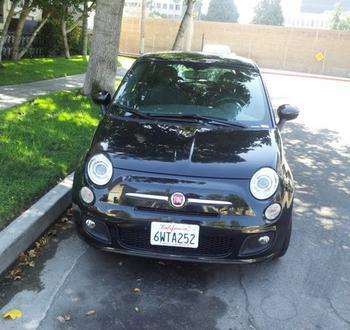 Casting a glance at the right shoulder, we found ample room to create our own lane and promptly returned the favor, sneaking around both hulking wastes of metal on the right and cutting smartly in front of them.
Little Paolo handled well during this escapade though his engine screamed bloody murder and there was barely enough pickup to accomplish this admittedly adolescent display.
The rest of our trip up the 405 and down the 101 were peaceful enough, as we crawled along in the mid-20 mph range with other mid-morning sluggards. This gave us time to examine the intelligently-arranged controls and search for a place to put our left foot, which already was becoming numb in the cramped cabin.
We found the cockpit, if we may call it that, much easier to comprehend than the Mini's, which is downright befuddling to most newbies. But, sadly, that's about the only thing we found superior to the Mini.
In terms of handling, speed and comfort, we would have to rate the Fiat a sorry second to the Mini, although as a pure urban errand-runner, little Paolo was more than adequate. It turns in an extremely small radius, making U-turns and last-minute lunges for parking spaces eminently achievable.
The "Mini effect"
Also, we found that -- other than those with severe emotional disturbances that cause them to drive Expeditions and Tahoes -- other drivers and pedestrians were quick to give us a break. I called this the "Mini effect" -- defined as the tendency of others to assume that anyone who would drive such a harmless-looking vehicle must be at least a vegan if not a completely benign and admirable individual.
None of this is true in my case, but that's another story.
For example, the last remaining parking space in the Trader Joe's lot on Riverside Drive in the Toluca Lake area would have been beyond our reach in any "normal" car, as two or three other vehicles were already heading for it. But, wearing our wolf in lamb's clothing disguise, we were able to go in the exit and weave among pedestrians who smiled tenderly at us, beating out the other foodies. The remote locking allowed us to beat a hasty retreat into the store before the other drivers could alight from their hulking vehicles and mount a pursuit.
So for a few days, we drove blissfully around Greater LA, enjoying the smiles and you-first waves of other drivers -- something we never get when piloting our daily driver, an elderly but still mean-looking Porsche.
3D - Don't Do Decker
By week's end, the time had come to put the 500 through its paces, to see if it retained any of the la dolce vita attitude of its ancestors. We hit the 101 and headed north to Kanan Dume Road, a pleasant but unchallenging semi-freeway that will take you peacefully to Malibu.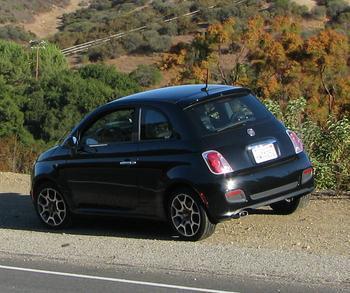 Ah, but not if you turn onto Mulholland Highway, a twisty, devilish little mountain trail that leads to the even more extreme Decker Canyon Road. We have whipped through, around and over these and neighboring roads in all kinds of cars and to date found the Mini Cooper S to be about as sure-footed and enthusiastic as anyone can reasonably expect. Passengers have occasionally become ill during these romps, a true tribute to any car though perhaps not to its driver.
The 500 was willing, plucky and determined but its tiny 1.4-litre engine and rather wobbly handling don't really put it in the same class as today's Minis and other pocket rockets. For daredevils, the Abarth version features more power and surer handling.
I had hoped the base 500 would display at least a little of the spirited handling of my lamented 70s-vintage 124, which took no prisoners in its runs through the mountain canyons of Southern California and Arizona back in its day. Of course, the 124 was never the same after that day we demonstrated that those "Watch for Falling Rocks" signs are not just there as decoration. But that's another story.
Admittedly, we were hampered by our rental car's being equipped with an automatic transmission, an abomination second to none. No doubt, a stick shift would have helped but the base 500, we'd have to say, is nevertheless a great little around-town car though maybe not something you'd want to take out for daily combat on the freeways or for long drives on the open road.
With a list price starting at $15,500, the Fiat 500 costs quite a bit less than the $19,700 Mini Cooper is asking for its base hardtop. For those addicted to automatic transmissions, the Mini delivers much better performance. With a stick shift, the 500 might be just fine.
Fit and finish on the Mexican-built car we drove were good. Little Paolo already had 25,000 miles on the clock and everything still seemed shipshape, except for the armrest that had begun to sag, in the process making the seat belt buckle hard to get to.
Can't wait to drive the new Alfa Romeo.
---