---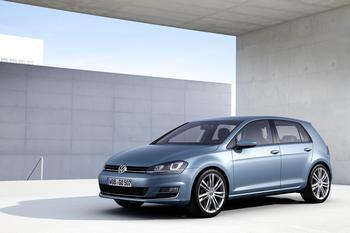 It's not easy being green. Volkswagen thought it had taken green about as far as it could go in a mass-market car when it introduced its new Golf in Berlin earlier this week. But Greenpeace pickets showed up and labeled the lighter little car a disappointment.
The latest Golf is up to 220 pounds lighter than the outgoing car, thanks to teutonic obsession with weight savings in all aspects of the car's construction. The air conditioning unit is, for example, six pounds lighter than the old car's; the seats have shed 15 pounds; and the body-in-white is 51 pounds lighter, VW said.
One major reason for the bodyshell's weight loss is the extensive use of high- and ultra-high strength steels. The share of the high-strength steels overall has gone from 66 percent in the previous Golf to 80 percent in the new one. Of this, the share of ultra-high-strength steel has gone from six to 28 percent.
Better fuel efficiency

One benefit of lowering the Golf's weight is better fuel economy: the European-market 1.4 TSI that uses a 140-horsepower, turbocharged, 1.4-liter engine fitted with cylinder de-activation gets a European Cycle combined fuel consumption figure of 49 mpg, while the base 105-horsepower TDI Clean Diesel engine delivers 62 mpg on the EC combined cycle.
But Greenpeace was not impressed with those figures. Greenpeace's German transportation expert, Wolfgang Lohbeck, said that with VW on track to overtake Toyota as the world's largest automaker, it has a "unique responsibility" to do better.
"It's lame, it's disappointing," Lohbeck complained, according to a Reuters report. "It doesn't really matter that Volkswagen may roll out an electric version of the Golf next year, since it won't comprise the bulk of the volumes -- what's important is the basic petrol version."
Sales sizzling
Environmental disputes are a fixture of modern life, but greener pastures are to be found over in the sales lot, where Volkswagen boosted its sales a sizzling 48 percent in August. VW has not boosted sales 24 percent or more every month this year -- mostly thanks to the Tennessee-built Passat, which has been flying off dealer lots.
Porsche, now a VW nameplate, is also having a good year, with sales up 39 percent in August and Audi up 13 percent.
---