---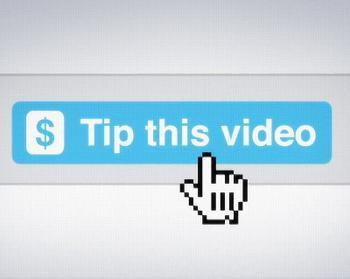 You tip the barista who whips up your brew and we hope you tip the shuttle-bus driver who helps you with your bags. You may even tip the guy on the corner who doesn't do much of anything.
So why not tip the hard-working content slaves who produce that little piece of video you just enjoyed on Vimeo? Soon you'll be able to do just that. The video-hosting site is adding a virtual tip jar today and says it will have an optional paywall available within the next few months.
"Empowering creators to make money from their videos is a logical next step for Vimeo as a service and an opportunity to expand the overall marketplace for video creators and viewers," said Vimeo CEO Kerry Trainor. "Established creators and emerging talent alike can connect directly with their audiences without the need to conform to industry standards around video format, price or timing releases."
We're sure Trainor is all sincere and stuff about helping struggling content producers but it's worth noting that, just like the barista's boss, Vimeo will have its hand in the tip jar. It will keep 15% of gross revenue.
Trainor notes that while consumers haven't rained down money on every online request for donations, there have been some pretty spectacular successes with crowd-funding over the past few years and he thinks the time may be right for the tip jar approach.
Of course, if the tip jar doesn't work, content producers can take a page from the cruise lines that automatically add tips to the ticket price: they can use Vimeo's new paywall, which will work just like its cable counterparts: you watch, you pay.
YouTube, the biggest video-hosting site, said in April that it would soon be offering a paywall option for live event streaming.
---