---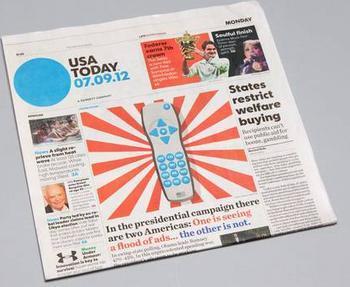 If you spend a lot of time in hotels and airports, it's hard to avoid USA Today, the colorful, photo-splashed national newspaper that turns 30 years old this weekend.
Like many other 30-year-olds, USA Today is trying to freshen itself up a bit and get with the times. So, effective tomorrow (Friday), the Gannett Co. paper will debut a new design that's supposed to be more in tune with the Internet and all things digital.
When the original USA Today made its bow 30 years ago, critics and fans alike said it looked like it was trying to resemble a TV screen. We wouldn't go so far as to say it now looks like it's trying to resemble an iPad screen, but it's certainly moving in that direction.
Also getting a facelift is USAToday.com. It's becoming downright app-like and sort of resembles the Flipboard mobile app. It will make its appearance over the weekend.
"We are making a real investment in USA TODAY, and putting a major focus on reinvigorating the value of print media while introducing new digital products," says Larry Kramer, president and publisher of USA Today. "We want to provide our readers with a unique perspective and relevant context on a full range of issues, across all mediums. We are revolutionizing the way we cover and distribute the news in relevant ways that inform and entertain our readers."
The complete overhaul of the newspaper is designed to showcase USA TODAY's prowess in visual storytelling and bring "stronger voices" to its stories. The new logo reflects "the pulse of the nation," the company said in a statement.
Concise and "stately"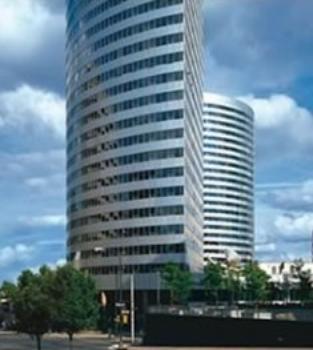 Gannett, the parent company of USA Today, launched the newspaper on Sept. 15, 1982, with the mission of providing news and information that was clear, concise and presented largely without opinion or unsubstantiated analysis. Its heavy integration of graphics and color photos in the pages, which was controversial at the time of the launch, went on to influence many U.S. and foreign newspapers to inject more style and color into their products.
A unique feature 30 years ago was the centerfold state news section, where USA Today assembled Associated Press and staff news reports from all 50 states, highlighting major state stories that would normally not be seen outside the state where they originated.
Besides being a service for travelers, the state section provided an interesting snapshot for news junkies and policy wonks who for the first time could easily track trends around the country.
There was, believe it or not, no Internet then so news was not quite as easy to come by as it is today.
The state news section, consisting mostly of AP state news reports, was not only the only place in print that one could find routine stories from all 50 states. It was also the only place the AP could find them. Although AP at that time operated news bureaus in all 50 states, it distributed its state news stories only within a two- or three-state radius. Only stories deemed of national interest were sent on to editors in New York and Washington.
USA Today was at that time in a modern, even garish, building in Rosslyn, Va., just across the Potomac from Washington. (It has since moved farther into the Virginia suburbs, to McLean). I was at that time chief of the national broadcast desk in Washington and several of us trooped over to Virginia to see this technical marvel -- routine, even dull, stories from all 50 states in one location.
The new look of USA Today is designed to take "visual storytelling to the next level" by displaying more color, photos and infographics, USA Today says. The States page will contain photos for the first time, while the Weather page will sport a cleaner look.
USA Today's new logo -- a large circle in colors corresponding to to the sections -- will be an infographic that changes with the news, containing a photo or image that represents key stories of the day.
---