---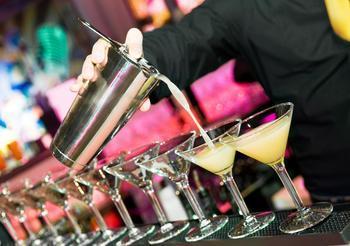 Heavy alcohol use has long been linked to high blood pressure and cardiovascular ailments. But new research suggests heavy alcohol use means a stroke might occur 14 years earlier.
"Heavy drinking has been consistently identified as a risk factor for this type of stroke, which is caused by bleeding in the brain rather than a blood clot," said study author Charlotte Cordonnier, MD, PhD, with the University of Lille Nord de France in Lille, France. "Our study focuses on the effects of heavy alcohol use on the timeline of stroke and the long-term outcome for those people."
The researchers studied people who suffered a type of stroke called intracerebral hemorrhage. the subjects, who had an average age of 71, were interviewed about their drinking habits.
A total of 137 people, or 25 percent of the group, were heavy drinkers, which was defined as having three or more drinks per day, or about 1.6 ounces per day of "pure" alcohol.
The study also included CT brain scams and a review of medical records. The results were clear.
Stroke at age 60
The study found that heavy drinkers experienced a stroke at an average age of 60, 14 years before the average age of their non-heavy drinking counterparts. Among people younger than 60 who had a stroke that occurred in the deep part of the brain, those who were heavy drinkers were more likely to die within two years of the study follow-up than non-heavy drinkers.
"It's important to keep in mind that drinking large amounts of alcohol contributes to a more severe form of stroke at a younger age in people who had no significant past medical history," said Cordonnier.
Scientists still haven't concluded why alcohol is linked to stroke. But studies have shown there is a link. At least one study has shown that more than two drinks a day may increase the risk of stroke by 50 percent.
At the same time, another study has suggested that one alcoholic beverage a day may lower a person's stroke risk.
---