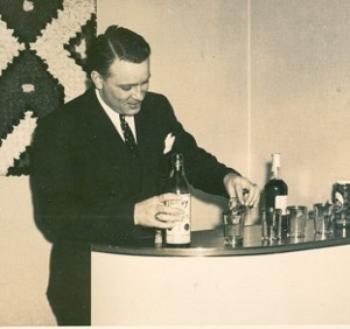 Although I was born in the 70s, my memories of the decade are extremely foggy. However, by the time I reached six or seven years of age, I was able to document a few mental pictures from that time period, and luckily I still remember some of them today.
For example I recall my parents doing a lot of entertaining in our basement with their friends and our family members. And as I'm writing this story, I'm able to still see a few faded images of men with Afros and healthy-sized mustaches, along with women sporting loud-colored outfits and gigantic hoop earrings.  
What I also remember is our home bar being at the center of a lot of those parties. It was a long cumbersome-looking thing, and I also remember many of my friend's parents having the same type of bar counters in their homes too.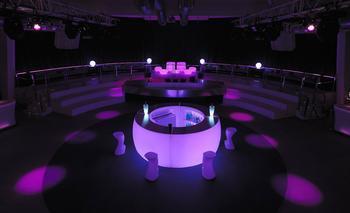 But the 70s was a long time ago, and since then home bars have come a long way from the rectangular brown tabletops that a lot of us grew up with. For example take the Lighted Outdoor Bar Fiesta, made by the company Vondom.
The cool thing about this space-aged looking bar is that one: It's movable so you can use it in or outdoors, instantly turning your basement or backyard into a local pub. And two: It lights up, so the illuminated circular bar provides a glowing ambiance for your family and friends to marvel at.
The lighted bar also allows you to use it outside at night, as it'll give off its own sources of light that will add a level of intimacy and coolness to your gathering.
The Fiesta also has all the conveniences of a traditional home bar, with inside shelves for bottles and big storage spaces for kegs or coolers. It also comes with equally futuristic-looking bar stools.
This outdoor/indoor bar will hardly go unnoticed, and you'll definitely be the talk of the town the next time your guests sit around this neon-lit bar counter. 
Metallic bar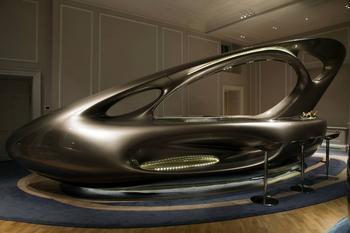 Zaha Hadid Architects, based in London, have also designed an extremely distinctive  home bar called the Metallic Bar. As a matter of fact, it may be one of the coolest looking bars you've seen to date.
Resembling part space ship, part futuristic car, the sheer look of the bar will have your guests trying to figure out what the thing really is. Its shiny grey surface, along with its base that lights up, is beautiful enough just to sit around without taking a drink, it's that's gorgeous.
Although the company hasn't made this bar available to the multitudes just yet – as it was specifically designed for London's Home House – consumers could potentially see the Metallic Bar for sale in the coming future.
Inebriator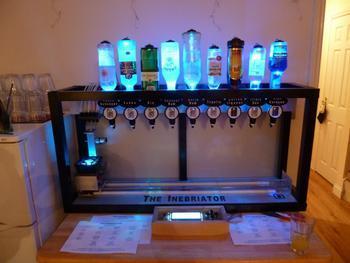 But not only have room and patio sized home bars come a long way since the 70s, but so have portable bars like the Inebriator. This one is small enough to fit on your table or countertop and automatically not only pours drinks for you, but mixes them too with bartender accuracy.
Once you place your glass on the moving cube, you select your drink of choice, and the glass automatically moves underneath each bottle, perfectly mixing your selection. The cube and glass even light up a cool blue color to let you know your drink is finished. The Inebriator also comes with drink information and tips to maximize use of the machine.
Then of course there's the Johnnie Walker Blue Label Limited Edition Private Bar, made by Porsche Design Studio. It actually looks more like a narrow refrigerator than a bar, and it's made of both titanium and blue leather.
Standing six feet tall the Johnnie Walker bar opens and electronically spins 180 degrees and opens to reveal the bottles, glasses, tongs and other needed bar items. The words 'limited edition' in the name of the bar, is due to the company only making 50 when it first created the design. At that time it went for about $150,000.
Whether more of these vertical bars will be built and sold in the future remains to be seen, but we thought it was certainly cool enough for us to pass along and share.
Evolution
We also want to let you know about the Evolution Mobile Bar that folds up into a suitcase with wheels, and allows you to bring the party wherever you'd like.
For about $2,000 you could buy the mobile bar online, which is ideal for tailgate parties or moving gatherings to different areas of your house with no hassle.
The bar on wheels looks to hold about 14 bottles along with several glasses, and comes in different colors and designs that you get to customize. Also, the entire bar only weighs about 60 pounds so it's not difficult to lug around from place to place.
So the next time you're in the market for a home-bar, you can either go old-school and get the solid wood type like my folks did in the 70s, or you can look for one that has a little more pizazz in its design.
Either way, today offers way more cool looking bars to choose from and hosts your gatherings with. Party on!