---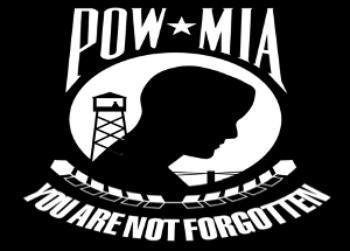 Military and civilian leaders are pausing today to take part in ceremonies marking National POW/MIA Recognition Day, an annual event to honor the nation's service members who were held prisoner or are still missing, and their families.
"As long as members of our Armed Forces remain unaccounted for, America will bring our fullest resources to bear in finding them and bringing them home. It is a promise we make not only to the families of our captured and our missing, but to all who have worn the uniform," President Barack Obama said.
"On September 21, 2012, the stark black and white banner symbolizing America's Missing in Action and Prisoners of War will be flown over the White House; the United States Capitol; the Departments of State, Defense, and Veterans Affairs; the Selective Service System Headquarters; the World War II Memorial; the Korean War Veterans Memorial; the Vietnam Veterans Memorial; United States post offices; national cemeteries; and other locations across our country. We raise this flag as a solemn reminder of our obligation to always remember the sacrifices made to defend our Nation," Obama's official proclamation concluded.
Meanwhile, 15 companies and organizations from a port to a power company received the Secretary of Defense Employer Support of the Guard and Reserve Freedom Award yesterday.
Panetta visits troops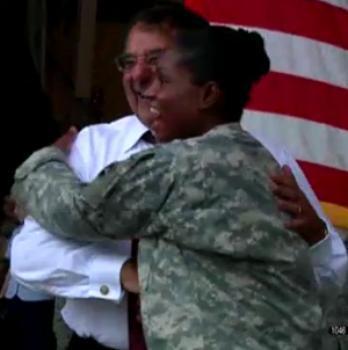 Secretary of Defense Leon Panetta visited with troops in Japan on his way to New Zealand and told them that, although the U.S. has the largest and most sophisticated array of weaponry in the world, "None of it would be worth a damn without the men and women who volunteer to serve their country."
The day's events include a Pentagon commemoration ceremony hosting former prisoners of war, family members, military service members and distinguished guests. Traditionally held on the third Friday in September, the event will include formal military honors. A flyover of military aircraft is scheduled to conclude the ceremony.
Also, in New York City, Department of Defense (DoD) representatives will participate in the New York Stock Exchange's Closing Bell Ceremony to honor prisoners of war and those missing in action. The New York Yankees will acknowledge the day with a home plate tribute to service members, past and present, during a game that evening.
In addition, observances of National POW/MIA Recognition Day are held across the country on military installations, at state capitols, in local communities, schools and at various veterans' facilities.
As a result of resolutions passed in Congress, the first official commemoration of POW/MIAs was in 1979, when the first national ceremony was held. The observance is one of six days of the year that Congress has mandated flying of the POW/MIA flag, created by the National League of Families', at major military installations, national cemeteries, all post offices, VA medical facilities, the World War II Memorial, Korean War Veterans Memorial, the Vietnam Veterans Memorial, the offices of the secretaries of state, defense and veterans affairs, the director of the selective service system and the White House.
The DoD has more than 600 people dedicated to the worldwide mission of accounting for the more than 83,000 missing service members from conflicts as far back as World War II.
Companies honored
The ESGR Freedom Award ceremony highlighted private and public companies, large and small, which go above and beyond what the law requires to support their deployed Guard and Reserve employees, said keynote speaker Erin C. Conaton, the Undersecretary of Defense for personnel and readiness.
Now in its 17th year, the ESGR Freedom Award is the top honor the federal government can present to employers in recognition of the extra steps taken to support their deployed employees and families.
"We must take time to salute the magnitude of this contribution and to thank you," Conaton said to a large civilian and military audience at the Ronald Reagan Building and International Trade Center.

"With approximately 50 percent of the nation's military strength residing in the Guard and [the] Reserves, we know that we wouldn't be able to field the world's greatest military without the depth of reserve components," she added.
These forces maintain their high quality and readiness directly from their dedication to service, strong family support and civilian employer backing, Conaton said.
Such employers seek to not only retain and support their employees who serve in military, they also hire veterans, she said.
Award recipients
This year's award recipients include:
-- Basin National Cooperative, North Dakota
-- Caterpillar Inc., Illinois
-- Citi, South Dakota and New York
-- Crystal Springs United Methodist Church, Mississippi
-- Delta Airlines, Georgia
-- Gary Jet Center, Indiana
-- iostudio, Tennessee
-- Kalamazoo Department of Public Safety, Michigan
-- L-3 Communications, Utah, New York
-- Nyemaster Goode, Iowa
-- Port of Seattle, Washington
-- Siemens Corp., Delaware, District of Columbia
-- Tennessee Valley Authority, Tennessee
-- Uniform Color Co., Michigan
-- Verizon Wireless, New Jersey
Winners are selected based on nominations from employees who are in the Guard or reserves. This year's 15 winners bring to 160 the number of awards that have honored companies and organizations across the nation. This year's competition received 3,200 nominations, ESGR officials said.

---