---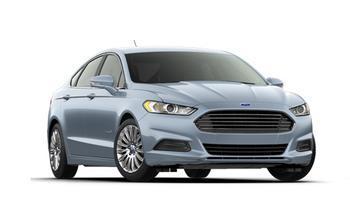 In the race for fuel efficiency, Ford is touting improvements in the 2013 Ford Fusion models, with the Fusion hybrid earning a rating of 47 miles per gallon (MPG) in both city and highway driving. Ford points out that tops the Toyota Camry hybrid by eight MPG highway, four MPG city.
While high MPG has long been expected in compacts and subcompacts, larger cars are gradually increasing their mileage ratings. Ford calls the Fusion the most fuel-efficient car of its mid-size class.
"The new Fusion is part of our plan to offer vehicles with the very best quality, fuel efficiency, safety, smart design and value," said Alan Mulally, Ford president and CEO. "We are absolutely committed to class-leading fuel efficiency as a reason to buy Ford vehicles, with customers able to choose the fuel-efficient powertrain that best fits their lifestyle."
Five power-train options
Ford says it has achieved this fuel efficiency by designing five different power-train options for the Fusion. It offers hybrid and plug-in hybrid variants and two fuel-efficient EcoBoost four-cylinder engines for customers.
In addition, Ford has added the option of an auto start-stop system, which automatically shuts off the engine at stationary idle to help save fuel. Fusion is available in front-wheel-drive and all-wheel-drive configurations with both six-speed automatic and six-speed manual transmissions.
Besides the hybrid models, Ford is heavily promoting the gasoline engine versions of the Fusion. It says the 1.6-liter version gets 25 mpg city, 37 mpg highway, 29 mpg combined; the 2.0-liter version gets 22 mpg city, 34 mpg highway, 26 mpg combined.
"Ford is bringing power of choice to mid-size sedan buyers," said Mark Fields, Ford's president of The Americas. "More than two million customers this year will purchase mid-size cars. Our new Fusion delivers the fuel savings people truly want and value, with technologies that cost two to three times the price on some German sedans."
Consumers choosing mid-size cars
Ford is putting a lot of emphasis behind its new Fusion because it believes American drivers prefer a mid-size car to a compact. At the same time, they want and expect fuel saving technology that will help them save money on ever more expensive gasoline.
According to the automaker, the mid-size car segment is the fastest-growing segment in America this year. Overall U.S. industry sales are up 15 percent in 2012, while mid-size car sales have grown 26 percent.
To turn out the new Fusion, Ford said it is adding 1,200 hourly jobs and investing $555 million at its Flat Rock Assembly Plant in Flat Rock, Mich. The new models are expected to be in showrooms later this fall.
---