---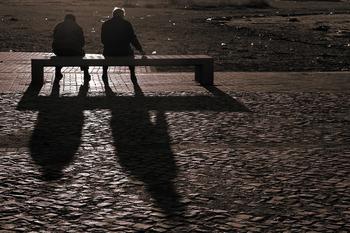 While jobless college graduates get a lot of ink, it's older Americans who are being hit hardest by the weak economy. An AARP study finds that while more than 20 million people over age 50 are struggling to make ends meet, there are few programs specifically designed to address their often complex situation.
AARP said its research finds that many older Americans face overwhelming stresses from mounting debt, poor credit, insufficient savings and even loss of their family homes, while others face the added pressures of caring for adult children and aging parents. Yet, there are few financial education programs that speak to the unique needs of older low-income workers and their families.
In an effort to address the distinct needs of low-income workers and jobseekers age 50 and older, the AARP Foundation and Charles Schwab Foundation have launched a new financial capability program, AARP Foundation Finances 50+, which is being rolled out in seven major cities across the United States.
"This is really a financial intervention program, designed to help people before they fall deeper into instability," said Jo Ann Jenkins, president of AARP Foundation. "We know that stabilizing a person's financial situation and increasing their financial capability can be a prerequisite for success in finding and retaining a job. This program is about empowering individuals to take control of their finances regardless of their circumstances."
Teens and young adults
"Financial capability efforts in this country have been mainly focused on educating teens and young adults, and there hasn't been enough emphasis on reaching older adults of lesser means," said Carrie Schwab-Pomerantz, president of Charles Schwab Foundation. "In light of the numbers of older Americans living on the brink of financial disaster, and the expected growth of this population in the coming years, we wanted to do something to make a difference, and we felt we could make the greatest impact by joining forces with an organization like AARP Foundation."
The program aims to give low-income older workers and jobseekers not only the skills and tools to reduce debt, repair credit and build savings, but also the encouragement and motivation to overcome emotional obstacles and put their lives back on track.
The program is being piloted in seven cities across the U.S.: Austin, Texas; Baltimore; Denver; New Orleans; Phoenix; San Francisco; and Washington, D.C..
For those who do not reside in any of the seven pilot cities, Finances 50+ materials, including a participant workbook and volunteer guide, are available online at aarp.org/finances50plus.
---