---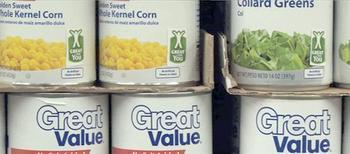 Just days after McDonald's installed menu boards with calorie information in all its restaurants, Walmart launched an effort it said would help consumers in the U.S. save money on more-nutritious foods and ultimately, live longer, healthier lives.
The corporate giants, both part of the Dow Jones Industrial Average, seem to have enlisted in the nation's war on obesity.
Walmart said it will partner with HumanaVitality, a subsidiary of Humana, to encourage people to eat better. The retailer said it will do its part by helping consumers save money by purchasing healthier foods.
Discounts on healthy food
Beginning on Oct. 15, more than one million HumanaVitality members who shop at Walmart will be eligible for the new program giving them a five percent savings on products that qualify for Walmart's Great For You icon, including fresh fruits, vegetables and low-fat dairy.
HumanaVitality is a program that rewards its members for making healthy lifestyle choices and reaching certain health goals. Walmart is providing one of those incentives by offering the price discount.
"Price is an important factor in incentivizing wellness in America," said John Agwunobi, M.D., president of health and wellness, Walmart U.S. "By offering affordable, healthier foods, we will help make our customers healthier and reduce costs to our healthcare system as a whole. This represents preventative care in its purest form."
Will others follow their lead?
The two initiatives, one by a America's largest fast food chain and the other by its largest retailer, marks a shift that experts say could make a difference, if others follow their example.
"The decision by McDonald's to post the number of calories on their menu boards is a welcome first step toward taking accountability for the role of their products in shaping the health of Americans," said Jeff Niederdeppe, a professor of communication in Cornell's College of Agriculture and Life Sciences, whose research explores the effects of mass media and health news coverage on health behavior and social policy. "The decision shows leadership and is likely to promote similar changes from other large fast-food chains."
But Niederdeppe says time will tell if the McDonald's move actually helps solve the obesity problem. Meanwhile, Ginny Ehrlich, chief executive officer of the William J. Clinton Foundation's Health Matters Initiative, calls the Walmart-HumanaVitality initiative an innovative approach.
"Walmart and HumanaVitality working together to help people make better decisions in the grocery aisle is a perfect example of how promoting healthier lifestyles can be a win for companies willing to explore new paths and, far more importantly, a great benefit for the health status of Americans," she said.
---