---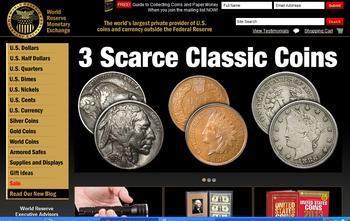 If you're a fan of the A&E series "Storage Wars," you know the concept. A group of collectors bids for the contents of an abandoned storage locker without really knowing what it holds.
It makes for entertaining reality television but Nevada Attorney General Catherine Cortex Masto is warning residents of her state it's no way to buy gold.
Masto is calling attention to ads run in Nevada newspapers by Ohio-based World Reserve Monetary Exchange (WRME), enticing Nevada residents to roll the dice on a "vault bag." The bags cost $149 and may be loaded with gold coins and U.S. currency. On the other hand, they might not be.
Masto's problem is with the way these vault bags are advertised.
'Confusing ads'
"These confusing ads, which are designed to look like an official news story, have the capacity to mislead consumers," said Masto. "The picturing of the products is unclear and inconspicuously identifies the total price for each items featured."
What is omitted from the ad, Masto says, is that the contents of these vault bags do not necessarily meet or exceed the price paid for each bag.
"During tough economic times, it is troubling that people are fooled into believing misleading ads," she said.
Small fortune 'up for grabs'
WRME, which sells coins, paper currency and safes, placed a full-page color ad titled, "Cash in limbo goes to residents in 15 of 17 Nevada counties," claiming that "bags of U.S. Government issued money loaded with a small fortune are up for grabs."
The ad continues by saying residents of fifteen Nevada counties have forty-eight hours to claim their bags at a fee of $149 for the vault bag fee. The ad guarantees that each vault bag contains 11 U.S. Government issued notes, which amounts to $23.
On January 12, 2012, the Santa Cruz County, Calif., District Attorney's Office announced a $223,000 settlement with the company over deceptive ads that offered California consumers free gold coins. Masto says the advertisement failed to mention that 32 of those coins had not been minted and that the price for the completed set would cost hundreds of dollars more than the advertised price.
Masto also warned that the Better Business Bureau has rated WRME as an "F" and has logged 249 complaints against the company, mostly for misleading advertisements.
---