---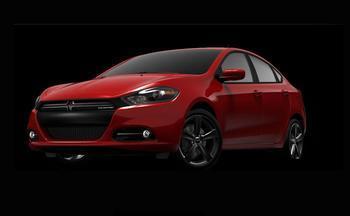 U.S. consumers flocked to new car showrooms last month, handing automakers a robust sales month. When all the sales were added up it was the best August since 2007, just before the start of the recession.
Among domestic companies Chrysler led the way. Its sales were up 14 percent over August 2011 while Ford recorded a sales increase of 13 percent. General Motors sales rose 10 percent during the month.
Big month for Chrysler
Chrysler Group reported U.S. sales of 148,472 units, with Chrysler, Jeep, Dodge, Ram Truck, and FIAT brands each recording year-over-year sales gains in August compared with the same month a year ago. The FIAT brand's 34 percent increase was the largest sales gain of any Chrysler Group brand for the month. Not only was it the best August in five years, it marked Chrysler's 29th consecutive month of year-over-year sales gains.
The company's bountiful August was driven in part by sales of the all-new Dodge Dart compact sedan. Dart sales were up 294 percent in August compared with the previous month of July, as the Belvidere, Ill., assembly plant continues to ramp up Dart production. The Dodge Journey set a sales record while the Dodge Avenger mid-size sedan and Dodge Challenger each set a sales record for the month of August.
The payoff
"Our hard work over the past few years is starting to pay some dividends in our sales growth, quality awards and profitability. Not to mention, an incredibly resilient U.S. new vehicle sales industry doesn't hurt either," said Reid Bigland, President and CEO – Dodge Brand and Head of U.S. Sales.
Toyota continued to rack up impressive numbers in August, increasing sales by 46 percent over August 2011, when the company was still recovering from the effects of an earthquake and tsunami. Volkswagen sales rose 46 percent while Audi sales rose 13 percent.
The average transaction for a new car was an estimated $30, 274, according to automotive website Truecar.com.
Small cars and big trucks
"Consumers' preferences concentrated on the two extreme ends of the segments in August: small cars and large trucks both enjoyed market share gains -- a trend that more or less resulted in a wash from the previous month," said Jesse Toprak, Vice President of Market Intelligence for TrueCar.com. "The increase in transaction prices compared to last year while lowering incentive spending shows the strengthening demand for new vehicles and a positive sign for the automakers' bottom line.
It may also be a positive sign for the economy. While economic activity remains sluggish, auto sales have remained strong for months. And lately even the housing market has been getting into the act. The most recent data show both sales volume and home values are rising.
---