---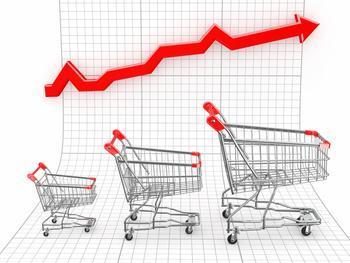 The Conference Board's monthly Consumer Confidence Index is one way economist keep track of consumer sentiment, and what it might mean for the economy. The latest reading is cause for smiles.
The Index, which fell in August, is back up this month, standing at 70.3 -- an increase of nine points. The Expectations Index increased to 83.7 from 71.1. The Present Situation Index rose to 50.2 from 46.5 last month.
More positive
"The Consumer Confidence Index rebounded in September and is back to levels seen earlier this year, said Lynn Franco, director of Economic Indicators at The Conference Board. "Consumers were more positive in their assessment of current conditions, in particular the job market, and considerably more optimistic about the short-term outlook for business conditions, employment and their financial situation."
Despite everything, Franco says consumers are slightly more optimistic than they have been in several months.
Why is this important? Because when consumers are not confident, they tend not to spend money. When they don't spend money, economic conditions tend to get even worse. It's been a vicious circle since the economy tanked at the end of 2008.
In truth, consumers have been up and down, month to month, over the last four years. One month confidence will rise, only to fall a couple of months later. Economists hope to see several months of sustained gains in the consumer confidence level.
Housing
One thing that could be helping consumers feel better is an uptick in the housing market. The latest Case-Shiller Home Value Indices show all 20 monitored cities showed price gains in July.
"Home prices increased again in July," said David M. Blitzer, Chairman of the Index Committee at S&P Dow Jones Indices. "All 20 cities and both Composites were up on the month for the third time in a row. Even better, 16 of the 20 cities and both Composites rose over the last year. Atlanta remains the weakest city but managed to cut the annual loss to just under 10 percent. "
Blitzer says 15 cities and both Composites had stronger annual returns in July's report. New
York was the only city with a worse 12-month decline in July than June. Dallas and Washington, DC, saw no change in their annual rates. Cleveland and Detroit saw annual rates decelerate in July versus June, although they remain positive for both cities.
"The news on home prices in this report confirm recent good news about housing," Blitzer said.
---