---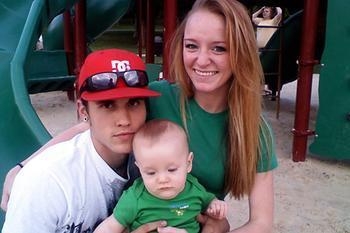 Maybe you've caught it already maybe you haven't, but surely you've at least heard of the reality documentary-styled MTV show "16 & Pregnant" and its successor "Teen Mom."
The series first aired in the summer of 2009 and since its debut, reviews of the show have stemmed from, "I kind of like this show, I think it's helpful for some teenagers," to "This is so exploitive, I'll never let my child even get a peek at this stupid show."
Possibly a good mediator between the opposing opinions is a study conducted by The National Campaign To Prevent Teen and Unplanned Pregnancy. The non-profit group says that programs like 16 & Pregnant have really helped teenagers by truly depicting how difficult life is for young mothers still in high school.
For those who have never seen the show, it centers on a group of 16-year-old mothers from different parts of the U.S. and each teenage girl is followed by cameras in their own individual story. Both 16 & Pregnant and Teen Mom show portrayals of struggle, as each character faces a bevy of challenges which are all related to being pregnant as a teen.
More good than bad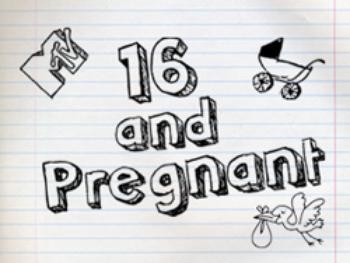 Most of the characters on the show deal with issues like fighting with suddenly disinterested boyfriends, to arguing with frustrated parents, to coping with a bunch of financial challenges. And the folks at the National Campaign believe the show does more good than bad when it comes to preventing teen pregnancy. In fact, they believe 16 & Pregnant only does good for young people.
In a survey of 1,008 kids from ages 12 to 19 who have watched 16 & Pregnant, 82 percent believe the show helps them and other teens grasp the real obstacles of teen pregnancy as well as becoming a parent. The study also revealed that 79 percent of teenage girls and 67 percent of teenage boys said 16 & Pregnant makes them think about the challenges of teen pregnancy, especially if they see a character they like have difficulties on the show.
In addition, 76 percent of teens said a good way to initiate frank sex talks with their parents is by seeing something on TV about relationships, sex or love, and 48 percent of teens said they actually have these types of conversations with their folks after seeing programs like 16 & Pregnant or Teen Mom.
Amy R. Kramer of The National Campaign said 16 & Pregnant does a stellar job of showing realistic portrayals of teenagers having babies, and she feels the show doesn't exploit young pregnancy; it actually informs teens about specific dangers.
"The way pregnancy and parenthood are portrayed isn't glorified or glamorous," she said about the MTV show. "It's upfront and honest. I don't think you can sit through any episode and say, 'Wow that looks awesome.' "
Fame and notoriety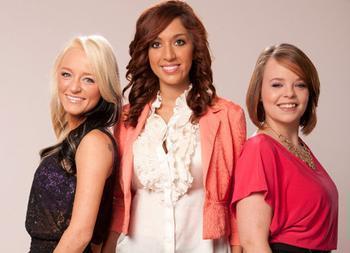 Paul Wright, an assistant professor of telecommunications at Indiana University College of Arts and Sciences, says that 16 & Pregnant does depict bits of reality as it pertains to teenagers having children, but the popularity of the show can send the message that becoming pregnant during your teen years could get you a little fame and notoriety.
"The programs were developed to show young women how difficult it is to be a teen mom," he said.
"They were intended to be program-length public service announcements discouraging teen pregnancy. But critics said the programs send mixed messages. My viewing of the programs suggested the same. On one hand, the programs do show many of the difficulties teen mothers face. But on the other hand, they sometimes seem to send the message that getting pregnant was all for the best," Wright said.
However Bill Albert, a spokesman for the National Campaign strongly disagrees with the criticism the show has received, and says television is just the most convenient target to blame for some of society's most consistent ills.
"Entertainment media is one of the nation's favorite punching bags, but we have to acknowledge that when we're talking about teen pregnancies media can be and often is a force for good, and that is particularly true when it comes to show like 16 & Pregnant."
"Some critics say these shows glamorize teen pregnancy, but our survey data shows that's not the case. That not only do they not glamorize it, but teens who have seen it suggest it makes the realities of teen parenthood more real to them," he said.
All-time low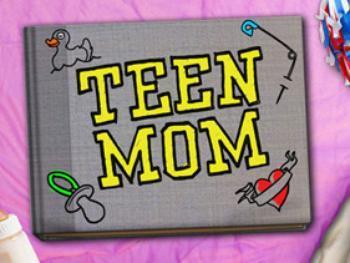 According to the Center for Disease Control and Prevention teen pregnancy has hit an all-time low, as in the year 2010, 367,752 babies were born to teenage mothers ages 15 through 19, which is a 9 percent drop compared to the previous year.
It's safe to assume that hardly anybody would say the lower numbers of teen pregnancy is attributed to the folks at MTV, 16 & Pregnant or Teen Mom, but Albert believes at the very least the show is a conversation starter, which could be the highest hurdle to leap for any parent when it comes to discussing sex or pregnancy with their children.
"What you seen on TV as a parent isn't always exactly what you'd want your teen to know or say or see, but it does deflect the conversation from, 'What are you doing? To more of an abstract, and that can be a good way to start conversations," he said. "The fact is this is not your parents sex talk, not a one-time white knuckle conversation, but this should be an 18-year conversation that you're having with your kids."
Thanks
Keep an eye on your inbox, the lastest consumer news is on it's way!
Unsubscribe easily whenever you want
---