---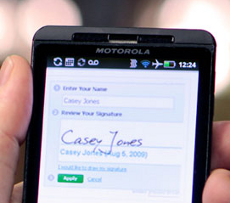 Today's world is a world of specialists.
Whether you need your roof fixed or someone to design a website for you, it's easy to find people who live and breathe a particular type of specialty.
Some choose to go the big company route and purchase services of, say, a Lawn Doctor for their grass, or Roto-Rooter for their plumbing. But others simply hire workers through the references of friends or co-workers, or choose to use websites that list a bunch of specialists and services.
When hiring a big company to do the work you need, contracts are typically already made up so one just has to plug in their name, address and other pertinent information.
But when hiring an independent worker many people just use an agreement they write themselves -- perhaps in an email -- to finalize the deal, and some people go solely off trust and don't use any formal agreements at all. Some rely on verbal agreements which, though technically binding, are in practice unenforceable.
Although verbal agreements and email exchanges that specify the detail of the task are legally binding in the United States, having a formal contract makes you appear a little more professional, which may set the playing field for how good the worker performs.
Digital signatures
To make the process of securing a signature on written agreements easier, a few companies have created digital contract sites so you don't have to worry about faxing hard copies.
You also don't have to count on that firm handshake you and the worker had, and hope it's enough to finalize the deal.
EchoSign is arguably one of the more popular digital contract sending services and the company has made it fairly fast and easy to send anyone a legal document with the click of a button.
The user would scan and upload the hardcopy before sending it out, then enter the recipient's email and press send. The person you're hiring would simply enter their name and initials and hit the "Click to Sign" button, or they can print and sign the document and send it back to you.
Soon after, all parties receive an email with a PDF of the document so they can keep it for their records. EchoSign also files the form in their system as a backup for you.
In many cases though, convenience costs, and in this case EchoSign's prices can range from the not-too-bad, to the relatively pricey.
It's free to sign up, but the "Pro" version starts at $14.95 a month.
If you send contracts and work with a team who will also need access to the documents, the cost ranges from $40 to $80 a month depending on the amount of people your team has.
Rounding out the price range for EchoSign is $299 for the Enterprise package and $399 for global use.
E-Sign Act
In June of 2000 Congress enacted the Electronic Signatures in Global and National Commerce Act (E-Sign Act), which provides regulation on digital contracts in terms of what is considered valid and what isn't.
The E-Sign Act pretty much says an electronic signature holds the same amount of legal weight that a paper document does.
The federal guidelines also say you must provide the recipient with the option of receiving a hard copy of the document, and also have the right to refuse the use of a digital contract.
In order for the signature to be legal it has to be verifiable and under the control of the person using it, says the law. Also, once a person signs a contract digitally or otherwise, it cannot be altered in any way.
But let's say you need to sign a contract that's being sent to you, and time precludes you from waiting for a fax or FedEx package to arrive. There's a company that can help you with that too.
HelloSign is a web based service that allows you to receive, sign and send digital contracts that can be signed with just your finger. It's also available on the form of an iPad and iPhone app.
The app is made by the same company that created HelloFax, which allows you to upload or drag a document into the company's website and fax it to someone by just entering their number and pushing a button.
The makers of HelloSign say they're on their way to creating a completely paperless office, and their new app will bring the convenience of sending a digital document to smartphones and other mobile devices.
Users can import a PDF or take a photo of the document, sign it with their finger then email it.
"We have been promised the paperless office for more than 30 years, but the digital signature industry has stagnated with expensive and bloated options priced for the large enterprise," explained founder of HelloSign and HelloFax Joseph Walla.
"HelloSign changes that with its free, easy-to-use solution that works equally well for both consumer and businesses and breaks the costly and time-wasting cycle of signing documents— print, sign, scan— with its free, unlimited and secure digital signatures on the web or with an iPhone and iPad app," he said.
Walla also says the app is ideal for the company-of-one who offers a service, or the big corporation that has several departments and divisions.
There are other websites and apps like HelloSign but most only offer free use for a short trial period, then you have to pay.
HelloSign is free and users can sign and send an unlimited amount of documents at no additional costs, so it's a pretty good service to keep around just in case you need it.
The app also has a tracking feature so you can keep tabs on exactly when the document is received an opened.
HelloSign is currently available for download at the iTunes app store.
---