---
For the last quarter-century there's been a law on the books that requires hospital emergency rooms to treat uninsured, critically ill patients instead of turning them away or transferring them. Despite that, a study says the practice of "patient dumping" continues.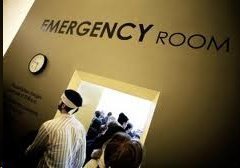 How widespread the practice is remains uncertain. The study by researchers at the George Washington School of Public Health presents five case studies of patients who had been denied care or transferred in an unstable condition to Denver Health, a large, urban safety-net hospital.
The researchers conclude not only that such "patient dumping" occurs under the current interpretation and enforcement of the law but that Denver Health is hardly alone.
Lack of enforcement
"Federal and state investigators must do a better job of identifying violators of the law and enforcing the ban on patient dumping," said GW Professor Sara Rosenbaum, lead author of the study. "If we do not start aggressively enforcing the law, millions of uninsured Americans will continue to get no care at all or incomplete care."
The study found that it's not just for-profit hospitals that engage in "patient dumping." It says non-profit hospitals seem to do it just as much. It's not only a violation of the patient's rights, the researchers say, but it places a huge burden on the hospital-of-last-resort that receives the dumped patients -- usually an under-funded urban facility.
The law in question is the Emergency Medical Treatment and Labor Act (EMTALA), which was passed in 1986. It requires hospitals to provide appropriate medical screening and stabilizing care to uninsured patients with emergency conditions. These conditions include illnesses as well as the result of accidents.
Law has been weakened
The study concluded that court rulings, regulations and other factors have allowed hospitals to skirt the intent of the law. For example, the 2003 regulations say that patients have to arrive at a "dedicated emergency department" and that EMALTA does not apply when a critically ill patient shows up in another department.
In order to stop this practice, the federal government must develop a more effective system for reporting non-compliance with the law, the authors say. They also argue that federal and state regulators must establish clearer standards to make it easier for hospitals to avoid violations.
For uninsured patients, knowing your rights is an important step in making sure you get timely treatment. If a hospital emergency department attempts to turn away an uninsured patient, the patient or loved one should reference the EMALTA and tell those in charge they expect treatment.
---